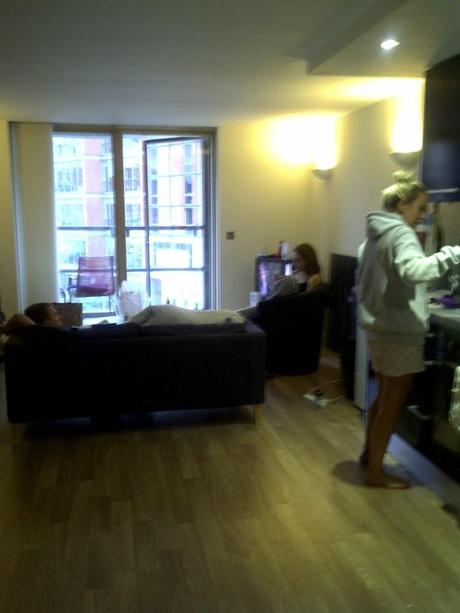 My friends are my family
"My friends are my family". This is what I remember anxiously imploring my dad, tears in my eyes, at about 16 years of  age. This was in response to his announcement that he intended to move us from our abode in Liverpool to Manchester to meet the requirements of his girlfriend at the time. I was shocked at his callousness; not least because it was in the middle of my GCSE years and I was already functioning poorly due to past upheavals but mainly because I did not know how he could expect me to be happy without my friends!
To many parents, I'm sure this matter would sound little more than trivial; children and teenagers are particularly resilient and built to adapt, rendering a relocation unremarkable. However, the proposition was that I would remain in my school in Liverpool and commute from Manchester which meant that there would be no adapting, just clumsy readjusting which I could see was likely to fail.
I remember at the time considering just how much support my friends actually gave me and I was convinced that this was much more than I was or would ever get at home. I would always be content in their company and meetings with them would always provide so much more than could ever overtly be observed. There was that underlying trust that they would always be there for me, when things got difficult and this meant more than anything. Perhaps this is what is taken for granted in most friendships at that age, but I always valued it so much.
I was an only child, living quite a way away from the rest of my friends who lived locally to our school. This had occurred because after insisting on enrolling me in a high school nearer to the area my mother was living, she left her partner and went to live in another city leaving me with my dad a good hour commute away from my school. I suppose to an extent, this made me a little isolated. I had the top floor of our old lovely Victorian house essentially to myself and would spend a lot of weekday evenings alone up there. It may be this that instilled my tenacity for independence. Alone with my thoughts, writing, music and faithful cat I can now look back fondly on what I no doubt then found to be a lonely experience.
It is true to say that it was an absence of family that lead me to place such value on friends. They were my resolute support network and I always put a lot into nurturing such friendships. Although I was outspoken, I was rarely the one that people would have a big fall out with. I cared too much to be at fault and they would never find a friend as committed or available as I.
Unfortunately the absence of family also meant that I relied on an array of friendships, some of which weren't necessarily as good or healthy as others. It was a few years previous to my dad's proposed move that my mum upped sticks and left. Very soon after that my friendship choices became questionable and I made the cliché of falling into the wrong crowd.
Where I lived meant that I was on the border of the notorious Toxteth; once famous for its riots, now left pretty defeated and boarded up. Having discovered the joys of drinking in the park (I repress the mental image of the memory) I soon met many of the local inhabitants. I can't bemoan their influence on me, as they were just like me at the time: clueless and unhappy, searching for a way to feel something other than resentment and animosity. It is hard to describe the intensity of the draw towards "the wrong crowd" or to convey the reasons which entice you to do so. I knew that my father would not approve, but I also knew that he was not around. Nevertheless, the connection with those friends ran much deeper than a desire to rebel.
After a year I was heavily involved in a lifestyle that I should have been a million miles away from. Still now I am amazed at the extent of the group's misbehaviours at the time. But it had taken a toll on me and slowly I was losing myself to the mental impact of such an existence. The psychological strain started to manifest itself physiologically to the extent that I was taken to hospital to have an MRI scan as the doctors suspected that I had a brain tumour.
Inwardly I knew what the cause was and equally I knew that it couldn't continue. The only way I could get myself better was to cut off that group completely. It wasn't easy but I managed it and slowly I regained myself.
It was years later when I left for university with everyone's words still resounding in my ears: "You make the friends that you keep for life in uni!". "Good" I thought, I was ready to see more of the world and hear more from like-minded people. It was a bit of a shock when I arrived at university - nothing like the abstracted experience that I had anticipated. Everyone was so different and the majority of my flat were male, apart from one girl who had not yet arrived. Nonetheless over the course of the first year there were particular people who I found myself clicking with, despite the fact that they were not necessarily people who I would have previously pictured myself clicking with.
I will always remember my first year of university with a great deal of nostalgia; delicately retracing how my close friendships now were cemented back then. All in all the transition from college to university for me, was fairly smooth sailing. I had many great times that long surpassed the typical university experience of getting drunk. My friends and I would go on random early morning drives into the country, climb hills and build fires; we'd frequent country pubs, break into horse sanctuaries with the pure intention of simply stroking horses and have rounds upon rounds of Articulate.
Sadly I slowly slipped away from these past times as I entered my second serious relationship. This lasted into my third year of university before I decided to give up the uneven struggle of trying to make it work in a situation where it was near impossible for it to do so. By the end of the relationship I felt defeated and in having neglected my friendships I had surreptitiously lost myself. Slowly I had stopped seeing my own value for lack of people I was sharing it with. I suppose the realisation that I needed my friends rather than a relationship hit me rather hard and suddenly but I can't stress what a difference it made.
I'd become uptight, irritable and sullen. No longer was I seeing the funny side of things. Once relaxed and content, I had become pushy and difficult. Exiting the relationship as I did, positively transformed me back to the me I had been sure that I once was. As my friendships flourished so did I and not once did I regret my decision.
The lurking suspicion that I guess has been with me since my early teenage years, is that I may be able to be happy on my own and with myself but what I can't help but think is that my friends are part of who I am and without them I simply do not function as well.