YM BioSciences Inc. (AMEX: YMI) develops, markets, and commercializes hematology and cancer-related products in the drug development arena.  Below is the 1 year chart showing their ascension into the $3.7 range, then precipitous drop off to almost $1. 
On the financial side, as of September 2011, the company had about $76M in cash, and was burning about $25M/yr.  The thing that we need to be aware of is that the company has filed a preliminary short form base shelf prospectus and a registration statement on Form F-10 (July 2011) for another $125M over the next 2 years, with the Canadian securities regulatory authorities and the US Securities and Exchange commission, respectively.
Over the past few years, the company has placed stock and warrant offerings for shares in the $1.20 to $1.60 range, so there is more to come – hence my not wanting to overpay.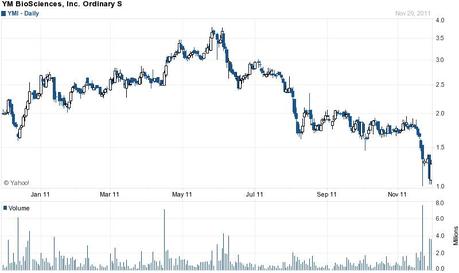 A bit of history, in October 2009, YM BioSciences agreed to acquire all of the issued shares and options in Cytopia by scheme of arrangement. YM would exchange 1 common share for every 11.737 Cytopia shares, which would lead to the issue of 7.2 million new YM shares. This represented a share price of $0.1659, a premium of 58% over the trading price of Cytopia shares on the ASX at that time. Following the acquisition Cytopia shareholders would own 11% of YM.  This is where CYT387 came from (see below).
On the scientific side of things, the company has many drugs in the pipeline that, if they come to fruition, could give the stock and company a  bit of up side.  First, it has one drug on the market,  nimotuzumab, which is an EGF receptor-targeting humanized IgG1 mAb, for the iv infusion treatment of cancers of epithelial origin.  Many of the cancers are still in trial, including breast, lung, prostate, esophageal, head and neck and pancreatic cancers.  The drug is co-marketed with several other companies and brings in about $1M in revenue for the company. 
The Company's flagship product is CYT-387 (in Phase 2), a small-molecule JAK1/JAK2 tyrosine kinase inhibitor, for the potential oral treatment of myeloproliferative disorders (MPD), including myelofibrosis (MF), polycythemia vera (PV) and essential thrombocythemia (ET).  JAK stands for Janus Kinase, and is a receptor that is activated by a signal from interferon,…