Courtesy of Doug Short
Note from dshort: I've updated my Treasury yield charts through today's close. The 10-year note yield, now at 2.96%, has dropped below both its 50- and 200-day moving averages. This is the lowest 10-year yield since December 6th. As the first chart illustrates, the shorter maturity yields especially have tumbled in recent weeks.
At the point QE2 is in its final weeks. It will be interesting to see if the flight to Treasuries continues to accelerate.

---
The behavior of Treasuries is an area of special interest in light of the Fed's second round of quantitative easing, which was formally announced on November 3rd. The first chart shows the percent change for a basket of eight Treasuries since November 4th.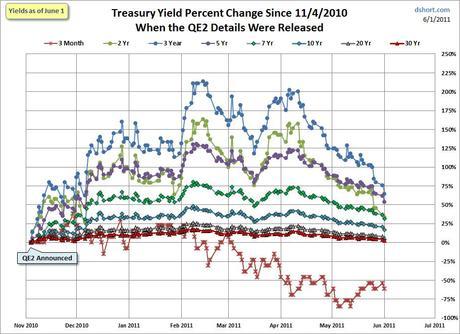 Click for a larger image
The next chart shows the daily performance of several Treasuries and the Fed Funds Rate (FFR) since 2007. The source for the yields is the Daily Treasury Yield Curve Rates from the US Department of the Treasury and the New York Fed's website for the FFR.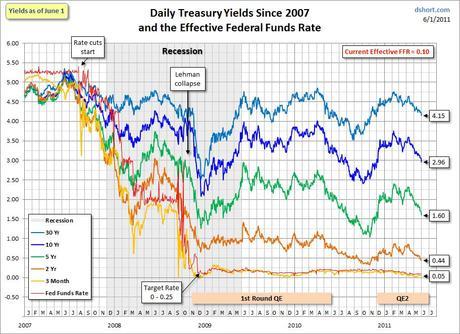 Click for a larger image
Here's a closer look at the past year with the 30-year fixed mortgage added to the mix (excluding points).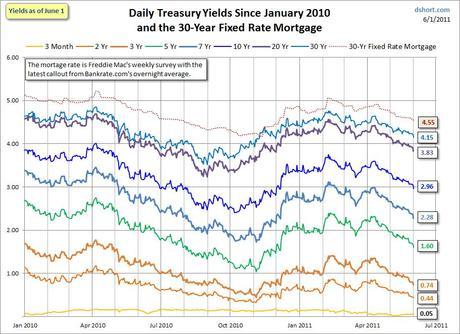 Click for a larger image
Here's a comparison of the yield curve at the time of the Fed's QE2 announcement and the latest curve.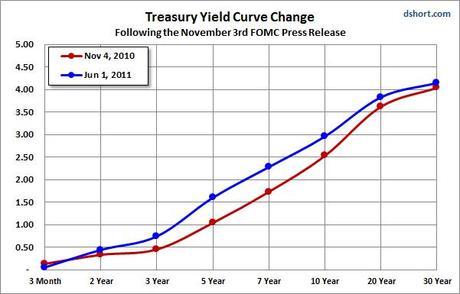 The yield spread had been widening in November and much of December and since then has contracted a bit. The next chart shows the 2- and 10-year yields with the 2-10 spread highlighted in the background.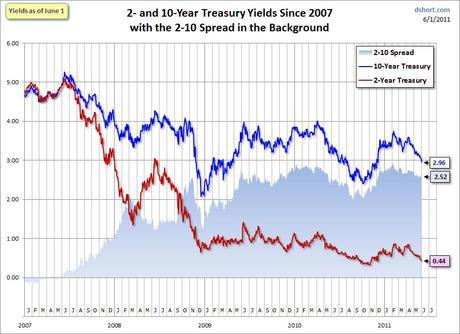 Click for a larger image
The final chart is an overlay of the CBOE Interest Rate 10-Year Treasury Note (TNX) and the S&P 500.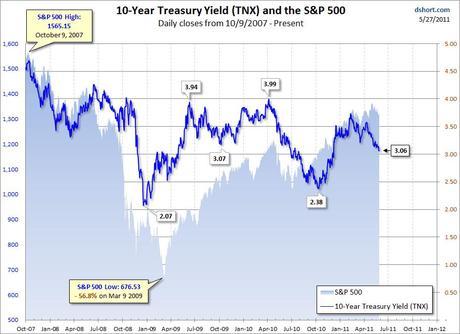 Click for a larger image
For a long-term view of weekly Treasury yields, also focusing on the 10-year, see my Treasury Yields in Perspective.