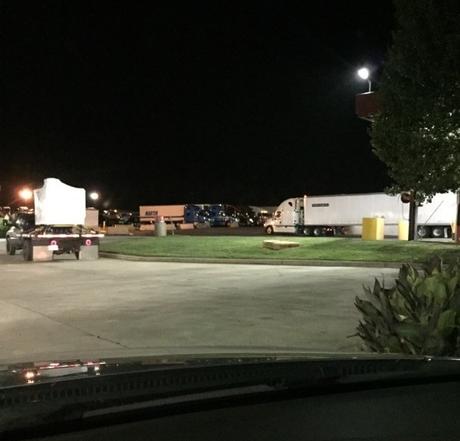 OK, I didn't really sleep with the truckers, but I did finally decide to brave the night and try sleeping at a truck stop and found out that you don't have to be driving a semi truck to stay at a 'Truck Stop'.  I'm part of a few online groups of people who travel with travel trailers and even smaller groups of these that are predominantly women.  I had read where a few had stayed at truck stops for the night and some who do all the time.
I do travel alone and I get asked all the time if I feel safe traveling and camping alone.  So far, I have felt perfectly safe everywhere I have stayed, and even when I stayed over at the truck stops on this trip.  I will confess that I am observant of what goes on around me when I'm on the road alone.  I try to pay attention to where I park and who is around.  I try to park in well-lit places if I stop, even just to take a tiny bathroom break, buy gas, or grab a cup of coffee.  I make sure my doors are locked and when walking to and from my vehicle, I carry my keys with me with the keys extending out between my fingers.  If anyone did approach me in a way that threatened me, I can tell you that raking those keys across someone's face will slow them down just a bit…at least enough for me to scream and run.
When I do camp over at a campground, I try to go online and check it out first.  I read any reviews available.  When I'm traveling to teach, this is work, not just pleasure or relaxation time, so things I look for in a park are different when I travel for a personal get-away time.  When working, I need a safe place easy to get in an out of, I need electric/water, preferably sewer hook up too.  While I don't have a bathroom in Glinda, I do have a sink and I have a portable water container that sits outside and the sink water can drain into, but I'd prefer not to have to carry that and dump it if I don't have too.  One other option that is important to me when working is WIFI.  When I get a chance to stop, that is my opportunity to catch up on email and social media, as well as try to write a blog post, pay bills, and plan my next stops.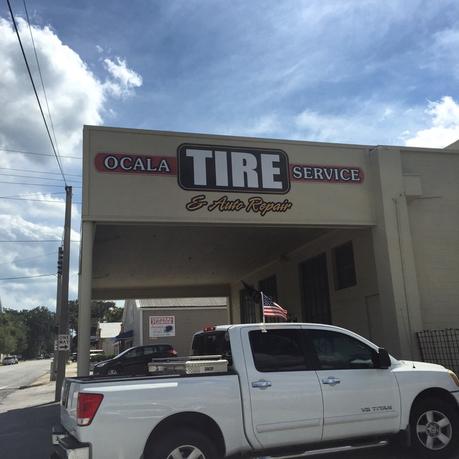 However, on this trip, things didn't go as planned as I was leaving Florida to head Midwest.  Outside of Ocala, I discovered I had a very bad tire on my vintage trailer, Glinda.  The tire was split badly and if I had driven any distance longer, it would have had a blow out and that could have proved disastrous.  P.S. – That is another tip – almost every time I stop for fuel, I walk around my car and trailer and make sure everything is still in place and looks good.  Thank goodness I noticed this tire.  Replacing the tires on the trailer have not been as easy.  The trailer has bias tires instead of radials and they are only 13″ tires.  These are much harder to find and not found at a Tire Plus or standard tire center.  You have to find someone who deals specifically in tires for a variety of needs.  After spending some time on the phone, I finally found Ocala Tire who had the needed tire in stock.  They were wonderful and got us back on the road very quickly once we arrived.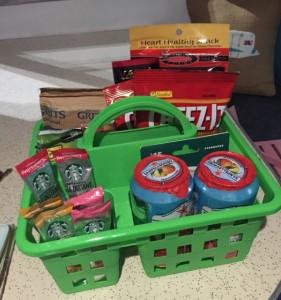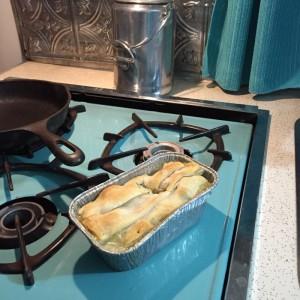 I then drove on into Georgia and met my sister-in-law to drop of some stuff with her and grab some dinner.  She was so good to me.  She bought me dinner, gave me this amazing car travel basket you see above and sent me off with 1/2 doz fresh eggs, home-grown baby tomatoes, homemade Brunswick stew and an individual chicken pot pie.  This has all been much appreciated.
I decided to drive a little further even though it was after dark.  By the time I started trying to find a place to camp for the night, it was very dark and many campgrounds closed already.  The hotels in the area were more than I wanted to pay for a few hours sleep, so I braved the truck stop.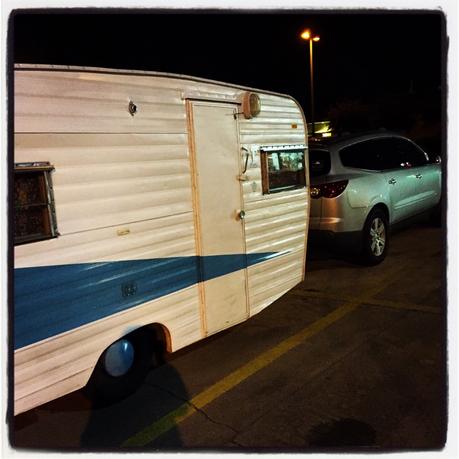 After stopping at a Flying J, I went inside to ask the attendant where the best place for a small travel trailer to park would be.  He directed me to the RV parking area.  There were a few other travel trailers, some cars & vans, and one semi truck without a trailer (which I later learned was driven by a woman).  I parked, locked up the car, and went inside Glinda.  I had no hook-ups and no generator.  I do have battery operated lights.  I settled in, opened a few windows part-way, and closed all the curtains.  I then snuggled in my comfortable bed (thanks again to Kunin Felt and Fairfield World) and slept very well until the morning.  I did wake up a few times with the lights from the parking lot, but they weren't really that bad – I'm just sensitive to lights when sleeping.   The noise from the trucks ended up being more like white noise than anything, and overall, I got a good night's sleep.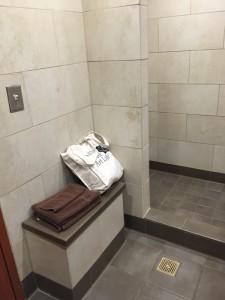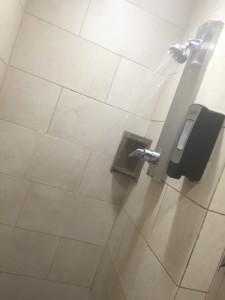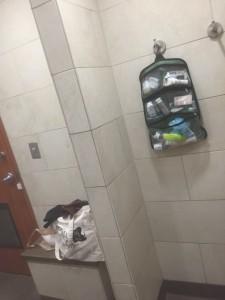 The next morning, I inquired about the showers available.  Showers are $12 at truck stops and after using their showers, it was better than any campground I've stayed at yet.  It was better than most hotels.  The bathroom is a private bath with lock, sink, commode, shower, bench, plenty of hooks, fresh towels, and even GoJo wash if you want it.  The shower and bathroom area were clean and the shower was HOT!   I did not feel cramped at all, and no, the truckers didn't all leer at me when I walked out of the shower area with wet hair.  I felt very comfortable and everyone was nice.  I do realize this may not be the case at every truck stop, but I had a positive experience.   So much so, that I slept at another Flying J on a different night.  And, I'll not hesitate to do it again when all I am doing is driving from point A to B.  If you travel a lot and decide to try the night at a truck stop, let me know what your experience was.  If you already have, please share with us what your thoughts / tips/ experience was.   I'm thankful that I had a safe place to sleep for free and a really awesome $12 shower.  Oh, and even better was the fact that after my shower, they had freshly brewed coffee and breakfast sandwiches waiting on me.
Stay tuned as I share more about my adventures on the road with Glinda as we are Living The Art Life and our really great times teaching at some amazing stores around the Midwest on this trip.