The yellow and orange hibiscus shrubs in my garden were blooming so well for the past few weeks. I was captivated by the yellow one. The shrub was flowering non-stop and mostly big in size.
I forgot how hot it was when I was gazing on these two bright but beautiful yellow blooms below.
Unlike the hibiscus, the colour of the blooms of the Episcias below is rather soft. The deep green leaves with a medium-green mid-rib area meanwhile give a good contrast.
My Chinese Fringe Flower was flowering profusely a week ago, giving a colour show. The foliage however was scanty.
The best shrub of the week is the Spider Tresses vine below. The plant is not only putting out lots of blooms but also lots of foliage.
Next to the Spider Tresses vine is the Purple Hookweed and Frangipani. Yup, the Frangipani is still flowering! The bunch of blooms has been producing flowers for a month already.
This French Bean is not doing well. A few days after I took its photo, the leaves turned limp with yellow leaves at the bottom of the vine. The weather has been hot but I didn't expect that the root can be easily diseased.
This low growing shrub, Virginia Stock looks green and nice but no flower in sight yet. I hope this annual will not die off so soon.
Picked up a sedum last month and it proves to be a very versatile plant. It can be grown in the full sun locations as well as in the shade.
Oxalis is another plant that is flowering non-stop. The pinkish light purple flowers atop the rich burgundy leaves are like icing on the cake. They make the plant look extremely delightful.
Spotted a few Azalea blooms next to my chives. Oh, such a pretty sight!!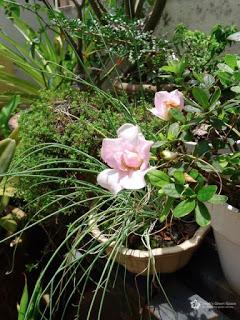 Although the weather has been really hot, it is not as hot as these Desert Rose blooms. Oh, what a beauty!
This Caladium is a weed in my garden. Not sure why it kept showing up here and there. Since this one is not disturbing the growth of the neighbouring plants, I just let it grow in the pot for the time being.
One of my fun little projects is to replant supermarket herbs. Below is a Thai Basil that I have regrown from a small potted herb that I bought earlier.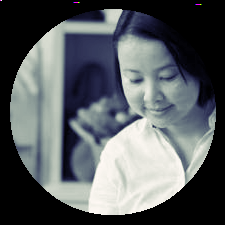 Share your experience and your thoughts on this post by leaving a comment :-)