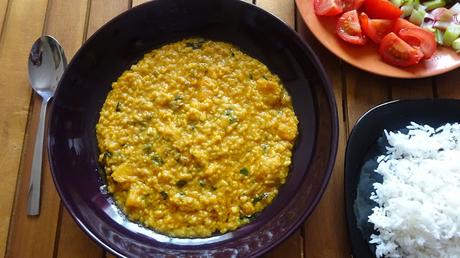 Finally autumn is in full bloom, the rustling of leaves and the whistling of the wind all have announced its official arrival.
Autumn and then winter... wait a minute! Even the long days of summer make me sad. I am still thinking what it is that doesn't make me sad, may be the saddest part of life is life itself.
So before I get off track and make this post an ode to my wandering mind, I would like to tell you that there is one thing that keeps me upbeat when I am low on positive vibe and that is the color yellow. I think it's basically because yellow captures the joy of sunshine and perks you up a bit.
I love the vibrant coloured lentils because they are a good source of vegan protein. Dals or lentils are very easy to cook, they are versitile and packed full of nutrition. Spices like cumin, turmeric, mustard seeds are used to further enhance the flavor.
So today I am sharing this delicious and healthy yellow mung dal with butternut squash recipe. The squash in addition to giving it a sunkissed look imparts a sweet earthy flavor to the dish. Even if you don't like lentils or buttersquash on their own, this heavenly combination is sure to win your heart.
IngredientsQuantiy
yellow mung  dal1 cup
butternut squash1/2 cup chopped
tomato paste4 tbsp
red chili powder1 1/2 tsp
turmeric1 tsp 
salt to taste
cumin seeds1 tsp
mustard sedds1 tsp
fenugreek seeds1/2 tsp
garlic cloves chopped5-6
oil4 tbsp
chopped fresh corriander  and green chilito taste
Place the yellow mung along with the buttersquash, turmeric and red chili powder  and tomato paste in a pot full of water.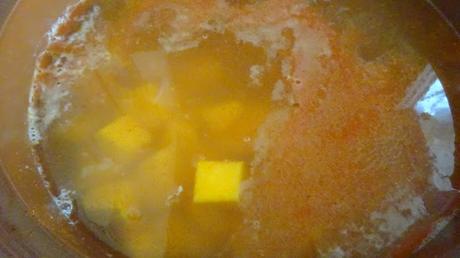 Leave to cook on low heat for 1-2 hours stirring from time to time. Slowly the mixture will start to thicken, add the salt at this point. Once the dal attains a medium thick consistancy, remove from heat and set aside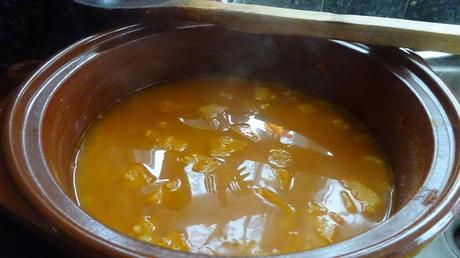 Meanwhile prepare the tempering by frying the chopped garlic cloves in oil light until golden brown in color.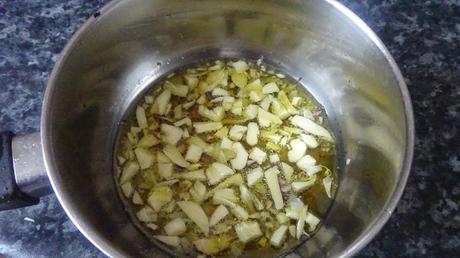 Add the chopped geen chili, mustard seeds, fenugreek seeds and turmeric also add freshly chopped corriander. Fry for a minute and then pour the tempering over the cooked dal.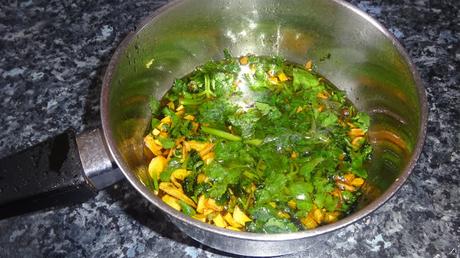 Fry for a minute and then pour the tempering over the cooked dal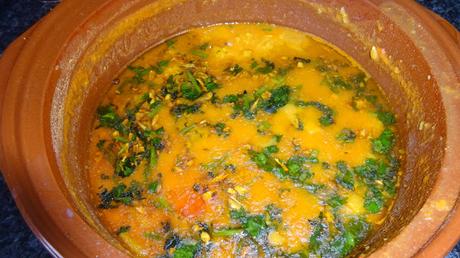 Place on a low heat and cook with lid on for two minutes. Remove from heat and serve sprinkled with garam masala.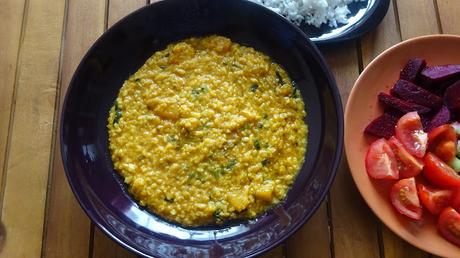 This dal goes very well with boiled rice.
You might also like: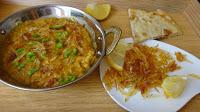 Want to taste haleem but you are a vegetarian, don't worry this    recipe is prepared with a handful of ingredients and tastes exactly    like the non-vegetarian version. Try it and you will be hooked Vegetarian Haleem Recipe