A decadent chocolate sponge cake filled with vanilla whipped cream. Perfect dessert for a dinner party or to satisfy your sweat cravings on a cold winter evening. This chocolate roll cake is super moist and light but at the same time rich because of the chocolate. This is a simple cake with simple cream filling but you can cover it with chocolate ganache for a more pronounced chocolate flavor.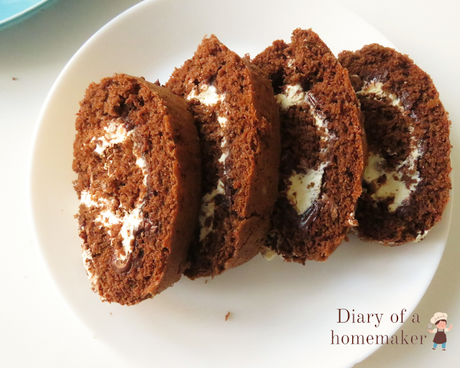 chocolate swiss roll

Ingredients:
4 large eggs70g sugar80g plain white flour20g dark cocoa powder2 tsp baking powderpinch salt
For The Cream Filling

300ml double creamsugar to taste1 tsp vanilla bean paste or vanilla extract
Method:
1. Sift the flour with the cocoa powder, baking powder and salt. Set aside2. Beat the eggs with sugar and 1 tsp vanilla extract.3. Gently fold the dry ingredients into the egg mixture, making sure not to knock the air out of the mixture.4. Spread the mixture onto a baking tray lined with parchment paper. Spread evenly with a spatula. Gently tap the tray on the counter.5. Bake in a preheated oven at 180 C until the cake is well risen and slightly springs back when touched.6. Sprinkle icing sugar on a clean counter top. Transfer the cake on the counter and start to roll with the help of the parchment paper. Leave the cake to cool in a rolled position.7. Whip the cream with sugar until soft peaks form. Unroll the cake spread with whipped cream.8. Again, roll the cake tightly with the cream filling inside.9. Decorate with icing sugar or chocolate ganache as you like.