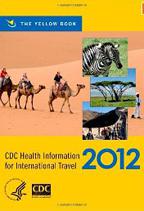 The Centers for Disease Control and Prevention (CDC) has announced that the 2012 edition of its definitive Yellow Book is now available in bookstores. This authoritative reference work is written by health professionals but is very accessible for international travelers who want to understand the risks of infectious disease around the world and how to manage common problems such as traveler's diarrhea. The Yellow Book is reissued every two years. The 2012 edition includes these new features:
Updated maps on the distribution of dengue fever
More detailed maps for yellow fever and malaria
Preventing traveler's diarrhea by understanding how food is prepared
Tips for traveling to mass gatherings such as the Hajj pilgrimage, the Olympics or the World Cup
Preparing for study abroad
How to manage when you are traveling during an international disease outbreak
In-depth discussions of itineraries that take you to the Caribbean, Egypt, Central America, Mexico and South Africa.
It's now available through Amazon for $33.43 and soon the ebook version will be available, perfect for the traveler who wants to view it on their Kindle or iPad.