With Yatango Mobile offering a free 30 day trial at the moment, I thought that it would be a great way to test them out and see just how good they actually are. The initial sign up process was pretty lengthy but not anything different to anyone else. Whilst the trial is free for 30 days and comes with 1000 TXT, 1000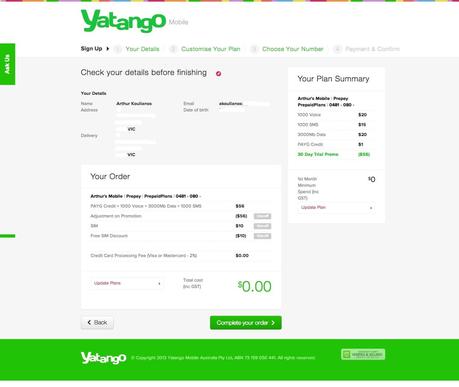 minutes and 3GB of data, they do from a security point of view ask for a credit card. They do state however that you are not charged and I have not been. I have also checked that the Topup feature has not been activated which gives you me confidence in saying that the trial is FREE!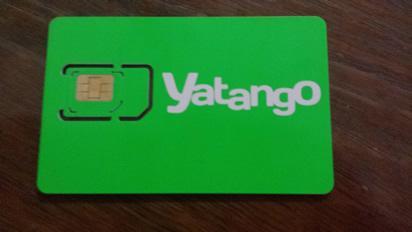 The sim card actually arrived within a few days of the order (standard and microsim) and whilst it sat on my desk for a few weeks, Yatango sent me several emails reminding me that I needed to activate it.This is what I like about the Yatango activation process, you do all of the work at the point of ordering it. The activation process took less than a minute and involved the click of just one button (finding the button was slightly tricky, but maybe that is my eyes). To activate you log into your account (email and password selected at the point of signup), the website recognises that you are yet to activate your account and sends you to a screen with the Activation button which you click and off you go, all done. Now all you need to do is install the sim card and you are ready to spend. Seriously it was that easy and quick!What has really impressed me about Yatango however is the account management function of their website. It is really informative. So much better than pretty much every prepaid mobile provider I have reviewed recently (or ever).The phone calls I made and TXTs I sent all worked fine and so did the internet. Speeds are below.
Coverage
Yatango uses the Optus 3G network. There was originally talk of 4G plans coming out but this has gone silent of late. I think they are more focused on getting their 3G pricing right before they offer 4G pricing.
Account Access
The Online Account access offered by Yatango is the best I have seen so far. There are a series with the first being Dashboard. This is actually live and gets updated pretty much instantly. So if you want to know exactly how much you have used for the day or month this is where to go. The second tab is the Usage History and gives you a call by call or TXT by TXT breakdown of what you have done. You can sort by type of activity and by date range. The third tab is Friends which displays the friends you have introduced to the service and the credit you have earned and finally you have Community which is the support function.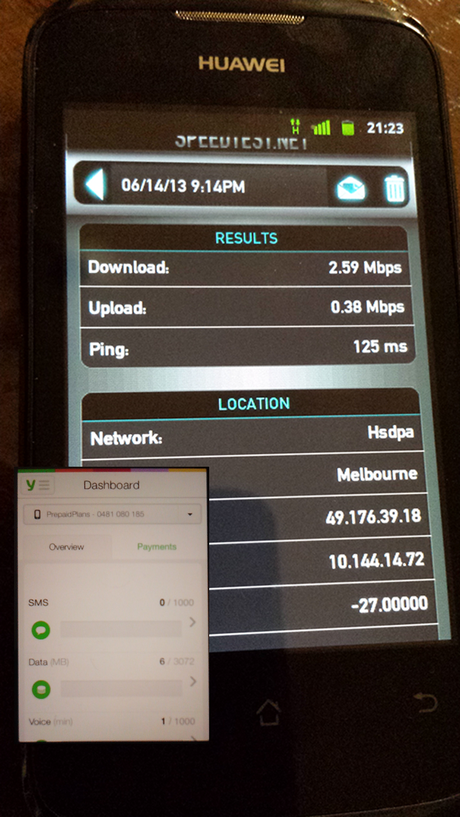 The Online Portal also allows you to update your plan allowances and topup.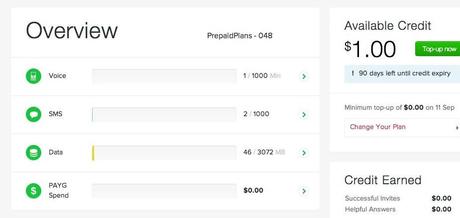 The Mobile Phone Application is only available for iPhones at the moment. The functionality includes an overview of what you have used, your activity in terms of actual use as well as the ability to make payments online for prepaid topups.
Speed Test
Using Speedtest.net the best result I was able to achieve was 2.59Mbps download and 0.38Mbps upload (this was at 9.19pm on a Friday night). However as I have stated with other data speed tests I have done, I find them very inconsistent at the best of times and I can only recommend that you try a sim for yourself at home and where you regularly use your phone like work or school. This will give you a better indication regarding speed.
Call Costs
Call rates are as follows and apply to both postpaid and prepaid mobile plans:
15c/min calls with no flagfall
Calls to Yatango customers are free
12c TXT
35c International TXT
50c MMS
90c International MMS
5c/MB data
For international there is a Voice Pack as well as PAYG rates by country.
So lets make a plan and show you the cost. $26/mth can buy you the following combination:
200 mins of calls ($10) + 200 mins to Yatango
100 TXT ($6)
500MB ($9) + unlimited social media
You an obviously slice and dice this up any way you want. If you wanted data only 3GB/mth with cost you $20.
All plans comes with unlimited social media access.
In terms of community bonuses, there are a couple of levels that will be offered, these include:
Yatango reward you with 50c Yatango credit for every customer service question you answer correctly in the community.
Earn $20 Yatango credit for every friend & family member you bring onto Yatango.
Positives:
Free trial with loads of credit.

Build your own plan is long overdue. Feedback from Yatango is that you can adjust your spend and what you spend your allowance on each month based on what you need. So it is very flexible.

$20 reward for bring in friends is great and unlimited/free calls to friends is even better. The Community side of rewards is an interesting one and I will give it go and see how quickly Yatango reward you.

Over the past month, Yatango sharpened their pencils and revised pricing quite a bit making the whole proposition much more attractive. Add to this the fact that they will help you shape your plan to your spend. There are some great advantages in using Yatango.

Online Access Portal is really easy to use and updates are live.
Activation process is very, very simple.
Optus 3G coverage is great and the data speeds will also equal what you can achieve with Optus direct or other Optus resellers eg Amaysim.
Improvements:
I was hoping that 4G would be part of the mix from day one but that is not so.