I signed up to Live Connected almost two years ago (27/10/11) and the experience so far has been great. The savings have actually been even better. For under $12 I get $450 in calls, $450 in calls to LC and 1.5GB. The contract is month to month, which means I can leave whenever I want to and just have to pay out what I owe. Works fine for me. On the flip side, LC also have the right to adjust my pricing should they decide that they don't want to offer my plan anymore. In fact they only need to give 21 days notice (where the contract term is month to month) should they wish to make changes to the service.
Earlier this month, Live Connected launched a new range of 4G mobile plans which you can read the review about here. They are competitive but the value is slightly below that of Vaya Mobile (their new owners), however Live Connected does have one major plus and that is per KB data billing. Along with this launch there was a message about existing users continuing to  enjoy their existing pricing. This message was posted on their Facebook page.
This week I received a message from a Twitter follower advising me of communication he had received from Live Connected advising him that as his mobile plan anniversary was approaching 24 months and that Live Connected would be making changes to his plan following this date. The message read like this:
As you may be aware, one of the great advantages of the Live Connected mobile plans, besides the low cost, is that you get to enjoy your low rates for a period of 24 months – even on a month to month plan. Your pricing is always subject to change as per our 21 days written notice policy but we work hard to make sure we offer you the best pricing possible with little to no disruption. Now that you're reaching your 24 month mark with us, we're very pleased to announce that your mobile plan cost per month, calls and SMS inclusions will remain exactly the same PLUS we're giving you access to the new 4G network as well as the existing 3G, but the flip side to this is that, with the increased cost of providing mobile data, we've had to reduce the amount of data included on your plans and discontinue offering free social access. As you can see, the new plans are still very generous and we believe we are still offering you the best value plans available in Australia.
What are the changes: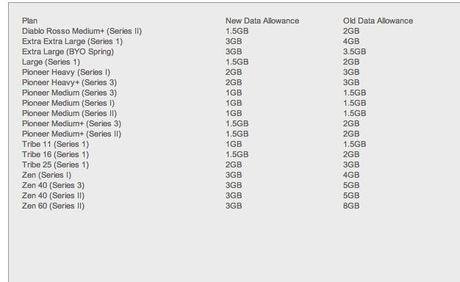 The trends across the prepaid and month to month mobile plan market this year has been for data allowances to drop. Our phones however are getting faster and hungrier for data, we have a new 4G data network, the Telcos want us to use more data and have up until this year been throwing it at us but now they are saying you can have it but its price has risen. What is worse is that if you have had the pleasure to experience the 4G network via any of the three 4G providers, you will have realised that your average monthly consumption of 4G data is higher than what your 3G data is even though your actual usage patterns have not necessarily changed. I personally have found (though my limited trials) that the phone itself is hungrier for data and seems to suck it in (as though it has spend the last month in the desert looking for water).
A lower data allowance and a hungrier phone spells disaster and more bill shock for many. The one saving grace with Live Connected however (over other providers and even their parent Vaya Mobile) is that their data billing increments remain per KB. This atleast means that if your data session gets cut off (on purpose or accidentally) the amount you are charged for is rounded up to the nearest KB. Others round up to the nearest MB. Remember 1MB is made up of 1024KB. The difference is fundamental in terms of calculating your data usage. This difference was one of the key reasons why I started promoting Live Connected on my website close to three years ago.
To be fair however, there other providers now offering per KB data billing. Vodafone for one, does across the board on all of its plans, prepaid and postpaid. Optus offer it on its 4G plans including its Prepaid Social plan. Telstra also offer it on its BYO plans and its Prepaid Encore plan (all of which offer 4G speeds). There are however others that don't. Vaya Mobile  plans are one and so is Spintel with its 4G offer.
So over the next month, I have a decision to make, I either stay on my current plan and watch my data very closely or I upgrade to a new plan with more data and a higher monthly charge.