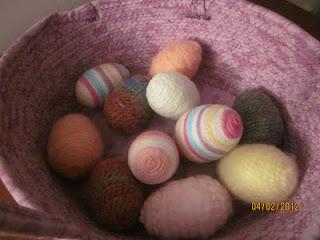 Well - after a week of strep throat and strep in my eye, I am glad to be back to normal health!!  Yarn wrapped anything is all the craze now, so I made these adorable yarn wrapped Easter eggs a few weekends ago.  This was such an easy project to make, it would be another perfect one for older kids.  I made these eggs while sitting on the couch watching a movie!
My intention was to take some pictures of the step-by-step process, and I completely forgot to take the before pictures! 
Materials Needed:
Styrofoam eggs (various sizes)
Yarn (various colors and styles)
Elmer's Glue
Straight Pin
Scissors
I began by pinning yarn to the top of an egg; then spread glue around the egg.  Carefully, I spun the yarn around the egg to cover the entire strofoam with yarn.  The trickiest part was completing the wrap on the bottom of the egg.  Since the bottom of the eggs was wider, the yarn was having a difficult time staying put.  I found that by using tons of glue and wrapping slowly at the bottom I would get the best results. 
My favorite yarn to use on this project was the multicolor cotton yarn I had left over from the knit placemats.  The 'fuzzier' yarn, like the Homespun, did not look as good as I anticipated.  This was a very fun project and would work really well for fall and winter projects as well!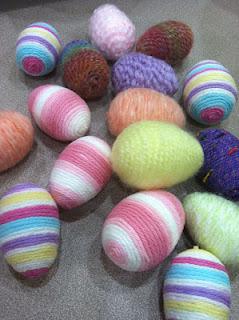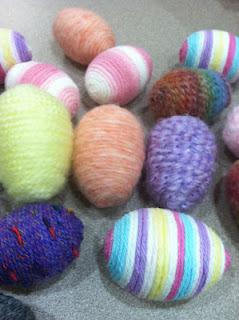 Happy Crafting!