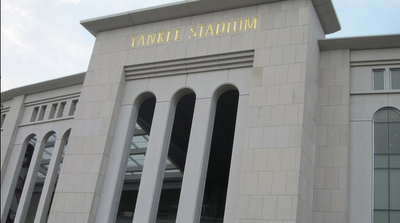 Last night, my younger brother and I ventured to the Bronx for the Yankees-Red Sox. The tickets were part of my Christmas present to him and we have been talking about this game for about five months.

 

He is a die-hard fan, but this was his first time ever seeing the Yanks in person – and he was so excited.

 

In truth, I was so excited for him.

 

Would he think that The Stadium is smaller than it looks on TV? Would it remind him slightly of a pinball machine, with all of its flashing lights and colors? Would he think the Lobel's steak sandwich is, in equal parts, highway robbery and a small meaty glimpse of heaven? I don't know, but I was curious. I also prayed that the expected torrential downpours would not ruin the experience for him.

 


I should have known we were in for a long night when, after he got changed, he was wearing one of those stupid rope necklaces.

 

The ones that all of the baseball players wear (i.e. the ones that are ridiculous).

 

But I kept my snarky comments to myself and just let him enjoy being all Yankeed-out, which I thought was rather mature. (I am nodding proudly).

 

The buzz on the subway was palpable – this was also my brother's first time riding the subway, but he seemed to think it was way easier than he expected.

 

As we got further from the World Trade Center and closer to 161st, the Yankees fans started to trickle onto the 4 train in droves.

 

And by the time we got there, it was a rowdy affair, we were packed in like sardines, and you could hear the tense chatter about the AL East race and Jorge's hissy fit.

 

We needed to avoid getting swept, but could junk-ball genius Freddy Garcia really out-duel Jon Lester?

 

My brother patiently watched the subway map lights tick off, one-by-one, for 19 fucking stops, until we finally arrived.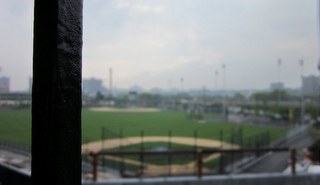 I was shocked by the fact that there are now playing fields and a park where the Old Stadium used to be; a few weeks ago, it still looked like a dirt hole completely fenced-up. When we got there, it was already raining and I thought, for sure, it was going to get postponed. We were so early that the gates weren't even opened yet.

 

But fifteen minutes later, we were two of the first people inside.

 

We hauled ass to Monument Park, which was actually much cooler than I expected. I have been to the granite dungeon pit under the Mohegan Sun many times, and while the history is incredible, it always underwhelms me.

 

I feel like they could have done so much more with it when they opened the monstrosity that is the new Yankee Stadium.

 

Last night, since we were there hours before the game, batting practice was going on and the players were about five feet from Monument Park.

 

Mariano Rivera was shagging balls, Joba was talking to fans, Andruw Jones was kicking a baseball around like it was a soccer ball.

 

There is a place in Monument Park where you can stand basically overlooking centerfield, and it was awesome to see.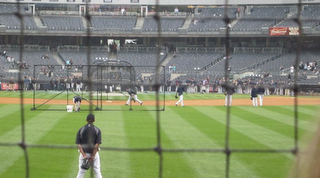 When we finally left (i.e. after my brother took photographs of every single plaque and retired number), we went into the right-field bleachers and watched batting practice.

 

The Yankees are rather awesome about batting practice.

 

Fans can sit wherever they want, go down to the railings, yell for players to toss them a ball – and the team is interactive and loose.

 

Even the Red Sox were not assholes when they were in the outfield. They tossed us some balls, too.

 

And by "us," I mean the crowd in general.

 

My brother and I were not really standing in the sea of people fighting over balls; we were sitting a few rows back, taking it all in.

 

And Kevin Youkalis was hitting bombs, so we should have been forewarned.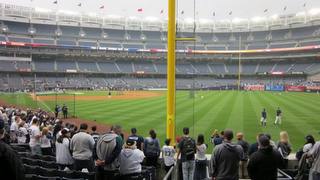 As the game started, and the Bleacher Creatures went through "roll call," they chanted Jorge Posada's name, even though he was not in the starting line-up.

 

He stood up from the bench and waved, and the crowd went nuts.

 

I was sort of surprised.

 

Personally, I thought the whole Incident was sad and unfortunate and never should have happened.

 

When you are hitting below the Mendoza line, you have no standing whatsoever to bitch about where you bat in the order.

 

You should simply be thankful that the team still has faith in you and you are playing at all.

 

But to pull this little temper tantrum hours before a nationally televised Red Sox game? I thought it was really poor form, really selfish, and super disappointing.

 

I have always thought Jorge was the angry, brooding one of the Core Four, but this weekend cemented it as his legacy.

 

And the whole thing was just unnecessary drama that seems to follow the Yankees around. No matter what decade we are in, it will always be the Bronx Zoo.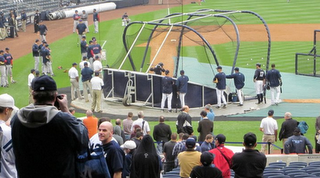 The game was cold, but shockingly, it did not rain.

 

Like the storm that never appeared, neither did our offense.

 

The game seemed to go back and forth, and every time we got a small lead (or a three-run lead at one point), we seemed to let the Red Sox get right back into it.

 

They grinded out three victories, and we played like we were bored and lifeless. Brett Gardner had some outstanding plays in the outfield, ones that left the crowd oohing and aahing – but his at-bats, bunting straight up to the catcher and getting picked off first base at one point – were definitive of the type of game we played.

 

After one bone-headed play, I turned to my brother and said: CAN WE POSSIBLY SUCK MORE?

 

I meant it. We have been atrocious over the past week, and the small AL East cushion that we built ourselves a month ago has entirely evaporated.

 

The Red Sox played like they wanted it more, and they earned it.

 

I just wish my brother could have seen one of the epic comebacks in The Stadium, where the upper levels rock with excitement and crowd camaraderie.

 


Regardless of the Yankees' loss, I am so happy that we went. The game itself may not have been memorable, but I will never forget the clear anticipation on my brother's face. Or the way that we ate our way through the Stadium. Or the small old Asian man sitting next to us, who my brother kept high-fiving to celebrate and who seemed appalled at our cheering. There is no place like Yankee Stadium – and I am thrilled that I got to share it with him.

 

Even if we had to see a Jonathan Papelbon fist-pump in the process.