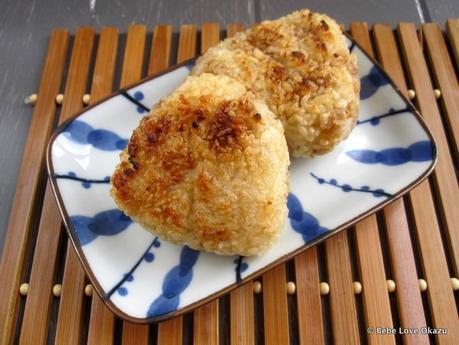 Yaki onigiri is a grilled (yaki) riceball (onigiri) which is often a staple at Japanese izakaya (tapas-style) restaurants both here in Southern California and also in Japan.
Warm rice is lightly seasoned with salt and then formed into a ball, or in my case, a triangular-ball. Then, it is grilled over an open flame (yes, like an American-style BBQ grill) or a Japanese-style charcoal pit, or broiler grill.
The grill that I use at home is an inexpensive stovetop fish broiler grill with a metal grate that nicely chars the onigiri (see photo below). I was fortunate my parents were willing to give me their stovetop broiler grill since they have a very nice high-end odorless fish griller (something I secretly covet for my own home). However, the type of grill you see below can readily be found at most Japanese markets, or my new favorite Japanese retailer, Daiso (where everything is $1.50), or even Amazon.
Yaki onigiri is a Japanese food that I grew up with. It wasn't often that my Mom made yaki onigiri, since we usually ate steamed rice, but when she did, it was definitely a treat.
The texture of yaki onigiri is almost crunchy, yet chewy on the outside, and soft on the inside, just like a traditional onigiri or rice ball. (Salmon onigiri recipe and karashi mentaiko/spicy cod roe onigiri) Because it's been grilled, yaki onigiri has a subtle smokey flavor that only toasted rice can offer.
For an added treat, yaki onigiri can be filled in the center, similar to a traditional onigiri, with umeboshi (pickled plum), or konbu (seasoned seaweed), salmon, or my favorite okaka (a mixture of katsuobushi or dried bonito flakes and shoyu or soy sauce; follow link for recipe).
Best when enjoyed while the yaki onigiri is warm, but it also makes for a great addition to any bento (lunch box).
Print
Yaki Onigiri – Grilled Rice Ball Author: 
Judy | Bebe Love Okazu
Recipe type: 
Appetizer, Side Dish
Cuisine: 
Japanese
Prep time:  5 mins Cook time:  15 mins Total time:  20 mins Serves: 
1
  Ingredients
2 cups cooked brown rice
Salt
Soy sauce
Cooking spray
Optional filling: umeboshi (pickled plum, konbu – seasoned seaweed, salmon, or okaka – dried bonito flakes with soy sauce)
Instructions
Very lightly season the cooked rice with table salt.
Form two rice balls, about one cup each. Using a generous piece of plastic wrap, place portion of cooked rice, add filling in center (optional), wrap with plastic wrap, then mold into balls. Note, the plastic wrap prevents the cooked rice from sticking to your hands.
Lightly spray the grill of the broiler grill with cooking spray to prevent the rice ball from sticking.
Over medium heat, allow the rice ball to grill on both sides until golden grown (or darker if you prefer) and slightly crisp. Time may vary from 15 to 20 minutes depending on your grill.
Drizzle soy sauce over yaki onigiri and serve immediately.
3.2.1275