Yahoo has announced a new and revolutionary login system called "On-demand passwords" that allows you to login to your Yahoo account without having to memorize a password.
On-demand passwords works pretty much like the 2-step verification process, which most online services already use. Except in this case you won't have to remember any password at all.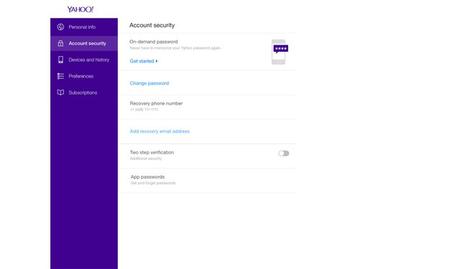 Here's how to get started -:
Sign in to your Yahoo.com account.
Click on your name at the top right corner to go to your account information page.
Select "Account Security" in the left bar.
Click on the slider for "On-demand passwords" to opt-in.
Enter your phone number and Yahoo will send you a verification code.
Enter the code and voila!
After you set up those settings, you will receive a new password on your phone via SMS every time you sign-in to Yahoo.
Read Also: Google Reinvents the CAPTCHA with a Simple Check Box
For many online users, memorizing passwords is the worst part about using online services. This is why most them end up using the same, easily memorable, password across several services, and eventually getting hacked out of all their accounts.
Yahoo accounts, especially Yahoo Mail, have been one of the easiest targets for hackers. And this new login system will not only make things easy for users, but will also provide solid protection against password theft. Only downside to the system is you'll have to protect your phone with your life.
On-demand passwords is currently only available for US users only. New system will roll out globally in the coming months.
[Via: Yahoo – Press Release / Photo: Satyendra Kumar ]
(All images, trademarks shown on this post are the property of their respective owners)
Follow @nrjperera – Roshan Jerad Perera