It has been few months since Yahoo's launch of their new Yahoo Axis browser, which they called "A new way to search and browse".  Most people called it a web browser but actually it's a plug-in for your browser that makes it easier to search the web without leaving the page you're on.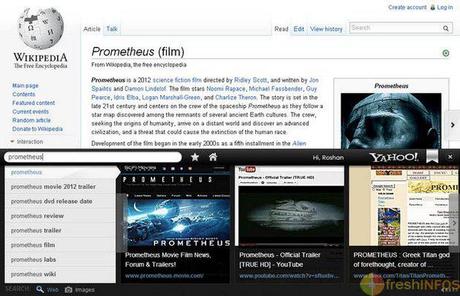 First I tried it on my computer. Once I've clicked the 'get it now' button on the Axis website, I was redirected to Chrome webstore to install it as a plug-in. After installing, a new homepage and a toolbar popped up from the bottom of the browser. It was a unique idea. And I kinda like it. On iOS devices it works as a stand-alone web browser.
It's pretty easy to use. You can just search for whatever you want by just typing it in on the small toolbar that always floats on the bottom left corner. It will automatically open up the search results in a slideshow view, allowing you to browse through the search results in a cool new picture style. Plus Yahoo Axis also gives you a personalized homepage to store your favorite webpages, and bookmark webpages to read later. It's totally awesome, I admit that. But it's a mix of both good and bad.
Good Stuff -
Makes searching fun with large webpage previews.
Easier searching from anywhere on the web
Categorized personal homepage
Better image viewing
Syncing with several devices
Bad Stuff - 
It's not Google
Search results are not very precise
A little heavy for your browser
Corrupted search result previews (only with some webpages)
Limited amount of search results
Another bad thing about Axis is that it narrows down your search to few options than showing you what you want. For example, when I typed Prometheus, I was expecting for a review about the movie. But it didn't came up. Anyway, it's a great web browser. Head over to the Yahoo Axis website and give it a try. And let me know what you think about it.
(All the images, trademarks, logo's shown on this post are the property of their respective owners)
Roshan Jerad Perera