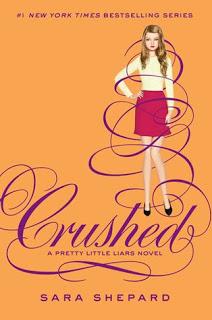 Spoiler warning for any and all reviews
Crushed (Pretty Little Liars #13) by Sara Shepard
While some readers are clearly growing tired of this series' length and the continued uncoiling of the newest "A" mystery, I for one thought this was an excellent installment, and took big steps towards actual resolution. I am also really happy to have this series still ongoing. It's nostalgic and beloved, and it's just comfortable to settle into a new
PLL
book. It makes me miss the heyday when Private and Privilege were around too...
As readers of my reviews are well aware, I loathe Noel and the Aria/Noel romance with a passion, and fiercely ship Ezria. Noel's sketchier side finally got outed in Crushed, but unfortunately, it looks like he'll probably still be redeemed (and I actually felt sorry for him at a few points, which is not enough to make me change my mind about him in general). 
The subplots here were all great: Hanna/Iris was excellent (Iris is awesome, clearly), and the twist with "Kyla" was amazing. I enjoyed Spencer's story with Chase, as it reminded me fondly of the kind of subplot you'd find in a Sweet Valley High book. Emily/Jordan is a terrific romance and keeps the reader guessing as to how they can ever be together.
All signs still point to Jason being A's helper (or A-2 if you will), and A herself either being Real Ali or one of the Liars (I hope it doesn't go that way, but how would anyone know they were in that panic room?). I can't wait to see what revelations come to light in the next book.
9 pink flowers out of ten.
Emblaze (Violet Eden Chapters #3) by Jessica Shirvington
Slight spoilers...
This series is getting progressively better. It was always entertaining, but now it's really quite epic. The Violet/Lincoln relationship gelled much more for me this time, despite my still finding Phoenix more intriguing. Each supporting character came further into their own, especially the hilarious Onyx, the increasingly mysterious Dapper, and the best BFF ever, Stef. The ending brought two highly important characters back from the beyond in an immensely suspenseful twist. There's enough depth of material here that I could easily see the
Embrace
saga working as a tv show.  I had heard various rumbles about an
Embrace
pilot ending up on the CW, so let's hope that didn't get left on the workroom floor along with
The Selection
adaptation...
9 pink flowers out of ten.
Shadowlands (Shadowlands #1) by Kate Brian
Kate Brian never disappoints. While sections of this were a bit repetitive, overall it was a fun, scary, suspenseful journey into mystery and fear.  The battles between protagonist Rory and the terrifying serial killer who pursues her were much more engrossing than the introductions of the various cookie-cutter teens on the sketchy island where Rory moves with her family.  I'm fully expecting that aspect to be smoothed out in the upcoming sequel, to which I look forward.

8 1/2 pink flowers out of ten.
Sever (The Chemical Garden Trilogy #3) by Lauren DeStefano
In a sea of post-apocalyptic YA fiction, this truly is that rare unicorn-mermaid of a saga that is unique.  After all, this particular mixture of polygamy, deadly plague, scientific experimentation, gothic family soap opera, and study of various psychological traumas, all under the umbrella of questioning the meaning of human life itself is an intensely ambitious and remarkable gambit.
I think it pays off tremendously.  While it is hard to believe that Rhine, Cecily, Linden, and the rest of the gang could seriously go through more horrific ordeals, prepare yourself when you open up this final installment of the series.  The tragic character death and its effect on the remaining characters is so harrowing that it makes Mockingjay seem like a cakewalk, yet Sever is a far more satisfying conclusion than The Hunger Games had.
The only issues here are the Gabriel/Rhine/Linden love triangle, which has a rather inconclusive unfurling out of sad necessity; and the character of Rhine's brother, Rowan.  I can accept the extent to which Rowan was "brainwashed" by Vaughn, but the amount of focus on this part of the plot was at times somewhat plodding - after all, we're just waiting for Rowan to "snap out of it" the whole time.
Otherwise, and by and large, this is a stunning conclusion to an unforgettable series.
10 pink flowers out of ten.
The Elite (The Selection #2) by Keira Cass
While a bit silly at times, this sequel overcomes a shaky start and ends up undeniably engrossing.  The set-up and cast of characters here are so sugary-sweet-addictive that it's easy to forgive the repetitive first half of the book, which finds America segueing between her two suitors in a sleepy-fish flipflop that seems to conflict with our knowledge of her strength of character.
However, the latter part of The Elite, with its increased focus and explanation of Maxon's character and his relationship with America, is fantastic.  Hopefully, the next book, The One, can strike a better balance and avoid trying to sell us on America/Aspen.
9 pink flowers out of ten.
Cross My Heart, Hope to Die (The Lying Game #5) by Sara Shepard
While never on the level of quality found in Pretty Little Liars, Shepard's other series deserved a much better fate than a tv show (on ABC Family) that made no effort to follow even the most rudimentary elements of its main ideas and plotline.  Naturally, that show was summarily cancelled.
The novels continue, and they are getting better as they go along.  I continue to theorize that Sutton is actually in a coma rather than dead.  The introduction of Becky and the accompanying revelations about the girls' pasts were gripping, though Shepard's constant use of the "let's fixate on one murder suspect for the whole length of a book, just to exonerate them at the end" is more than a tell at this point.
I can't really seem to invest any real interest in Ethan as a love interest, but I don't know about Emma/Thayer, seeing as Thayer really loves Sutton.  Perhaps what Emma really needs is a new, better guy to spice things up.
8.5 pink flowers out of ten.
The Clockwork Princess (The Infernal Devices #3) by Cassandra Clare
This ending absolutely psychologically scarred me for life.  There is almost no way to even describe the conclusion of this magnificent series, other than to call it incredibly shocking, tear-jerkingly tragic, yet oddly and immensely joyful in the final pages...all almost simultaneous responses while reading at different moments.  Even that description barely does justice to this total mind-frak of a novel.  Well done, once again, Cassandra Clare.
10 pink flowers out of ten.