Anna Dressed in Blood
by Kendare Blake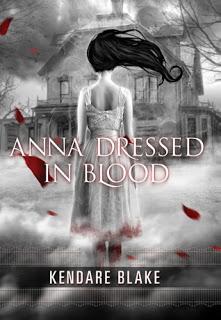 Published:
 August 30th, 2011
Publisher: Tor Teen
Source: Bought From Amazon
Format: E-Book
Pages: 316
Cover Art
This cover is so pretty and endearing. When I saw this book on Amazon, and I saw it on other blogs, I really, really wanted to read it...mainly because the cover seemed so mysterious! I love how Anna is turned away so you can't see her face- it scares me! Not to mention the title- I LOVE IT. And not just because my name is Anna...
Plot Synopsis
Just your average boy-meets-girl, girl-kills-people story...

Cas Lowood has inherited an unusual vocation: He kills the dead.
So did his father before him, until his gruesome murder by a ghost he sought to kill. Now, armed with his father's mysterious and deadly athame, Cas travels the country with his kitchen-witch mother and their spirit-sniffing cat. Together they follow legends and local lore, trying to keep up with the murderous dead—keeping pesky things like the future and friends at bay.
When they arrive in a new town in search of a ghost the locals call Anna Dressed in Blood, Cas doesn't expect anything outside of the ordinary: move, hunt, kill. What he finds instead is a girl entangled in curses and rage, a ghost like he's never faced before. She still wears the dress she wore on the day of her brutal murder in 1958: once white, but now stained red and dripping blood. Since her death, Anna has killed any and every person who has dared to step into the deserted Victorian she used to call home.
And she, for whatever reason, spares his life.
My Rating:

First Line:
'The grease-slicked hair is a dead giveaway- no pun intended.'
Pocket-Size Review I was completely hooked by this book...but I didn't find it scary at all. The ghosts were too philosophical to be scary. Highs: The characters, the unusual premise, and the writing in general was fabulous. Lows: I know a lot of people loved the relationship between Cas and Anna but I wasn't convinced. It all seemed a bit quick and bizarre.
Review
I wish this book had really freaked me out. Most things do. This book failed to freak me out but it did really surprise me and made me want MOAR.
'I work in the dark, killing what should have stayed dead...'
Cas is a ghost hunter. He is pretty annoying at times...which is kind of why I liked him. He is a normal person with annoying traits and an actual personality. You feel as though his confidence and cockiness is part of his persona, like he's worked hard to look that arrogant because it's the only way he can get his job done. He and his mom travel around from town to town- wherever he tracks the next ghost. He has to go to hundreds of new schools and he has to find out the local ghost stories. I understand this because, as Patrick Rothfuss has taught me, the stories are usually true if you scrape away some of the sparkly embellishment. Cas has a tried and tested method; get in with the most popular girl in school. She is the key to finding out whatever needs to be known and introducing him to the maximum amount to people. Therefore, Cas needs to believe he is alluring and attractive enough to become an associate of the most popular girl in school. Which he does; 'Girls...have always come easy. I don't know why that is, exactly. Maybe it's the outsider vibe and a well-placed brooding look. Maybe it's something I think I see sometimes in the mirror, something that reminds me of my father. Or maybe I'm just damn easy on the eyes.' Now, this cockiness is an annoying trait. However, I felt that it made sense for the character to have that trait because he needs to be completely sure of himself if he is going to be able to integrate himself into all the new places and, particularly, schools that he has to attend each year whilst also finding out what he needs to know. He works alone and therefore needs to have complete faith in his abaility. For him to be a moody, quiet or antisocial character just wouldn't have made sense to me, to I'm glad that the author had the courage to make Cas vaguely annoying in order to make him more believable.  Anna is the murderous ghost Cas needs to kill and, to be honest, I didn't really get her in the same way that I got Cas. I have seen other reviewers describe her as awesome and ass-kicking and I find that a little bizarre. She is not ass-kicking in any way. A weird curse-like possession makes her ravenously murder anybody who enters her home (and I'm talking serious blood-splattering, stomach churning violence here), so that part isn't really the true Anna at all. The real Anna is meek, thoughtful, frightened and lonely and wants to be loved. She isn't an awesome or ass-kicking heroine (which is no bad thing); she is a normal girl underneath who doesn't do anything particularly exceptional. I found it hard to get over the previous brutal slash-fest she went on that meant rotting corpses were piled up in her basement but, hey, I guess I'm narrow-minded. I really loved the aspect of this novel that involved people rationalising their fear away and, thus, deliberately ignoring any unusual supernatural activity going on around them.  '...But by then it's always too late. They'd made the decision to pick up a hitchhiker, and they weren't about to let themselves be scared into going back on it. They rationalised their fears away. People shouldn't do that.' That really struck a cord with me because I am quite a paranoid person who, when left on their own in the house for too long, has the kind of brain that thinks it's funny to dredge up every horrible, violent ghost story they have ever heard and imagine that every creak and shuffle is probably a ghost climbing down from the attic. Now, I don't believe in ghost...but only because I know it is a ludicrous and irrational fear. I will always rationalise away my fears and tell myself how silly they are...but that creepy feeling in my gut just won't go away. I call it an overactive imagination!  Something that I absolutely didn't expect going into this book was that it would make me laugh but it did...on numerous occasions! I hope it was a conscious effort by the author to make this a bit of a black comedy rather than unacknowledged silliness. "It's because of your father," my mom whispers. And then, more to the point, "Because he ate your father." Tee hee. Overall, this book really intrigued me and completely defied my expectations. I laughed and I cried, but I didn't scream. Was I meant to? I don't know what emotions Kendare Blake hoped to evoke from me but she certainly got some, and I enjoyed every second of them. P.S- Thank you Kendare Blake for allowing your characters to swear. There is a notable lack of a good curse word in YA and I always like it when authors are brave enough to allow teenagers to do what they do best and swear like a trooper.
Other Thoughts
This Book has Inspired me to Read: Can't wait to read the sequel 'Girl of Nightmares'. It's not out in the UK until March, though :-(
Three Words to Describe this Book: Gruesome, Fast-paced, Surprising. But Don't Take My Word For It...

Blog Reviews of  'Anna Dressed in Blood': 
Alluring Reads says:
'Anna Dressed in Blood has the perfect balance of scary and funny, on one page you will be clutching your blanket to your chin and on the next you'll be laughing at some funny remark. This marriage of the two made for a reading experience that I will remember and recommend to anyone looking for an alluring read.'
The Book Rat says:
' 

Gruesome! Bloody! Funny! Touching! Awesome!

'