All Things Different
by Shawn Underhill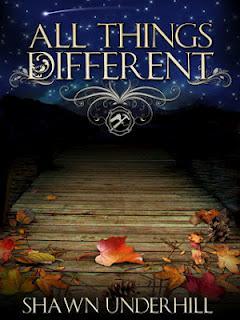 Published:
 June 26th, 2012
Publisher: Independently Published
Source: Received Copy from Author
Format: E-Book
Pages: 267
Cover Art
I love this cover, and it is the reason I accepted the book for review as I have stopped reading blurbs altogether recently! (I have found it works well for me! I judge them by their reviews and their covers now!) I adore the lettering and the dock with the autumn leaves in the front is perfect for the story, where the setting is intertwined with the characters beautifully.
Plot Synopsis
Late in the summer of 2005, starkly independent Jake Thornton was on the verge of turning 16, expecting little more than his driver's license in the fall, and the continuance of the quiet life shared with his father. So when 14-almost-15 year old Sara moved in next door and began vying for his father's attention, Jake wasn't exactly thrilled, and couldn't quite understand his father's motives for allowing it. But certainly he never anticipated the dramatic shift their lives would take as a result.
As the summer fades and autumn takes over, friendship between the two teenagers begins blossoming into a bond, until fate steps in once more, threatening to tear them apart as quickly as they've come together. The decisions that follow, and the emotive tale that results, opens Jake's eyes to the simple yet life altering truth, a truth that Sara has understood all along: that love—not the feeling but the action—is the most powerful force in the world.
My Rating:

First Lines:
'Sara Harper felt her heart leap in her chest. This was it- the most important part of the most important day of her life.'
Pocket-Size Review
I was unsure of this book at first...I was liking it but dragging my feet. However, by the end I was hanging on to ever word with a lump in my throat.
Highs: The simplicity of the story, and the love between all the characters. It is a slow buildup  as they learn to trust each other which makes it all the more special when it happens. Lows: Some over-description at times, and the ending is a bit too contrived for my taste.
Review
When I first started this book I will admit that I was a little hesitant and dubious. After reading lots of action and magic and fantasy recently, it took me a few chapters to adjust to the simplicity and descriptive slant of this book. It is very much set in the real world, with real characters and very real issues. However, once I had adjusted my brain and got used to the setting and the ways of the characters, I was utterly charmed and hooked. While at the beginning I was dragging my feet saying, 'I DON'T WANT TO hear about falling leaves and boat trips and the feeling of the sun on people's necks' by the end I was engrossed and felt like I knew the characters back to front and wanted to stay by the lake forever.
The setting of this book is gorgeous; it is largely set in a house made of logs (I imagined a log cabin but bigger) set amongst a clustered forest of pines where the needles make a carpet underfoot that lead you to a beautiful, crystal clear lake. I really felt relaxed and peaceful as I read the descriptions of the surroundings; the thought of little docks over blue water and the smell of pine and wood. This is what I imagined: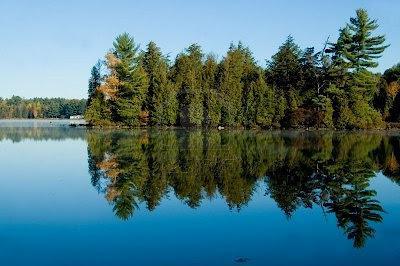 It's beautiful in that kind of melancholy. painful way too. Jake, the narrator of the story, speaks of his setting with reverence and awe, yet also sadness and despondency. The changing seasons and the bittersweet memories that accompany them are a big focus of this book and beauty does come with it's fair share of pain. You know that sadness you feel when summer is coming to an end? That feeling is portrayed beautifully by the author, reflected in the gorgeous descriptions of the transformation of summer to autumn,
'But nothing ever lasts, and summer always ends too soon. The leaves always turn first near the water, and each year when we saw them start we were always a little bit sad. It meant school for me and less time with my old man doing what I loved, and all we could do was watch helplessly as our favorite season passed on by. Almost overnight the colours would ignite and we loved that part very much, sometimes driving aimlessly on backroads or rowing across the lake just to be lost in the reds, the oranges, the yellows, and the countless variations between, all reflecting on the water so beautifully but still a little sadly.'
As well as falling in love with the melancholy prettiness of the surroundings in this novel, I also fell in love with the characters. It wasn't a passionate insta-love; at first I was a little wary of them and found Jake too awkward and Sara too pathetic and clingy. However, as I got to know them both, I began to care about them intensely without even knowing it. Seriously, one moment I was flicking through the pages thinking I wasn't quite connecting with them, and then suddenly I was halfway through and on tenterhooks ready to turn the page to find out what happens to them with tears in my eyes. Jake is quite a shy, awkward teenage boy who has always had a routine of fishing and building with his Dad and living alone in their isolated cabin, which means he has never really been exposed to girls and their many complexities before. When Sara and her mother roll up and rent out the only other cabin next to theirs, Jake is angry and feels as though his space has been invaded and his routine thrown upside down. However, over time Sara manages to insert herself firmly into his life whether he likes it or not. The way Sara gets under Jake's skin and makes him love her before he even knows what's happening was mirrored exactly by the effect these characters had on me; very slowly, they charmed me and made me care and slipped into my consciousness.
Sara is very fragile and damaged which were qualities I couldn't quite roll with at the beginning. I am used to reading books with strong heroines who don't need to be looked after by men. However, I realised as I was reading that it is not realisitic to expect every female character to be brave and strong; it wasn't because she was a woman that she was weak, but rather the way she had been treated and exploited in the past that made her so. She reminded me quite strongly of Anne from 'Anne of Green Gables' as she has been through a lot (some really horrendous abuse in Sara's case) and is quite damaged and lonely and needs people around her to chatter to and tell her dreams and imaginings too. She is like a ray of sunshine in Jake's, and his Dad's, lives, just as Anne is to Marilla and Matthew. Anne and Sara are the kind of people who demand love and force people to love them because they are so innocent and sweet and...lovable! Sara is much more needy and clingy than Anne, but then she has been through a lot more. I loved how she just came and rocked Jake's world and made him want to change his life for her. Whereas he had previously wanted a simple, builder's life, she changes that,
'She always smelled sweet and I enjoyed just being in the same room as her, even when she made me feel like mush when she stared or smiled or acted like I was better than I actually was. I hated that she could sway me so simply, shift my priorities and draw my attention when all I wanted to do was spend time with my old man or watch a ball game or, heaven forbid, relax quietly.' 
I loved the awkwardness of their first encounters; there is definitely no insta love or rushing into anything romantic with these two. Instead, it is a sweet buildup of gaining mutual trust, of Jake trying to 
accommodate
 Sara in his life, and Sara being patient with him. I found Jake's reluctance and awkwardness very real and believable and his confusion at physical contact at first was very sweet,
'My breath came harder from her small weight on me. It was strange and wonderful and uncomfortable to have her there, and I did not want her to move.'
It was very lovely and subtle watching their relationship, and feeling the shift as Jake turns from irritation to indifference to like to love and finally to fierce loyalty and protection towards Sara. I found it to be a believable connection between them, although I did feel that as soon as Sara found out about Jake's existence, she decided she WOULD love him and make him love her. She needed someone, a man, who was 
nonthreatening
 and could cure her loneliness, and Jake was there. However, although I think she had already decided before she met him that she would attach herself to him, I think their subsequent connection felt very real.
Another character who needs to be mentioned is Jake's father. The relationship between Jake and his father is at the crux of the story, and it is wonderful. I had a lump in my throat on multiple occasions during this book, and it was usually because of the love and pride Jake's dad felt for both him and Sara, who he treats as his own daughter. He is a wonderful father without becoming cheesy or cringey. He has this air of solidity and largeness, that provides a solid base and a sense of safety and protection for Jake and Sara, which I thought the author portrayed beautifully, and which really moved me.
However, although there was a lot to love about this novel, I did find myself becoming quite irritated at times too. Most of my irritations revolved around the gender roles that are imposed upon the characters in this novel without question. Sara is very much placed in the domestic sphere, cooking their food and cleaning their floors, while the men 'circle hungrily'. The men are the towers of strength in this novel, while Sara is portrayed a tiny, naive, lighter-than-air doll. While Jake is physically able to protect Sara, emotionally and physically, she can do nothing for herself. Indeed, her options are described thus,
'Her prospective career choices consisted of, but were not limited to, interior decorating, fashion design, hair and makeup artist, singer, model, writer of magical stories, veterinarian, cheer coach, though she'd given up cheering herself.'
She does choose a career later in the novel, but one which is only chosen to make Jake's father happy and be somewhat useful to him. Women are very stereotypically portrayed as the shopping-loving, shallow, makeover-initiating, decorating, pink, fluffy creatures who Jake decribes as 'Barbie-ing' the lake house. They just seem rather silly and materialistic,
"What do you really want?" I said, expecting her to go off about a purse or a pair of shoes or something silly like that.'
In a way, I was OK with it because it reflected the naturally narrow-minded views of Jake, a boy whose mother died when he was very young and who has never really been exposed to women. However, as a woman who hates shopping and decorating and would definitely never be anyone's 'feminine touch', making them put the toilet seat down and take their muddy shoes off because all that matters in my life is a clean floor and an accessible toilet, it did grate on me quite a lot. I did appreciate that the end of the novel made the power balance a bit more even, but then I didn't like the letters right at the end. I just don't like devices such as letters or diary entries, but that's just personal taste. Sara also has an a
nnoying habit of saying Jake's name at the end of every, single 
sentence
. In a serious conversation, it would be awkward to say the other person's name that often. Oh, and Shaun please let your characters swear goddamit. 'Fah Q' is not a thing.
This is a subtle, beautiful and haunting novel set amongst the tall pines by the glassy lake. See, reading this book makes you want to be descriptive and whimsical. The characters go from a cold, awkward, socially inept teenage boy and a squealing, terrified, needy teenage girl to adults with fierce loyalty and love for each other, their family, and their home. After a shaky start, I adored it.
Other Thoughts

This Book has Inspired me to Read: OK, so I liked having a break from all the fantasy and adrenaline pumping action I have been having recently (tee hee), but I think I do need to read one of those next to cure me of the melancholy this book left me with! Memorable Quotes:
'But nothing ever lasts, and summer always ends too soon.'
'He was not afraid of the dark itself, but of the feeling of his spirit leaving his body that came when falling asleep.' - I love the second quote about sleep because I can totally relate to it! I have to sleep with my TV on because I hate falling asleep in the dark for this reason! I am not afraid of the dark, just of actually being silent and absent in darkness...sounds weird I know! Three Words to Describe this Book: Moving, Serious, Lyrical.
But Don't Take My Word For It...
Blog Reviews of 'All Things Different': 
The Indie Bookshelf says:
'All Things Different is a beautifully written book—so much so that I feel like I was living on their lakeside for the day while I read this book.  Shawn Underhill does an outstanding job describing the beauty that surrounds the characters.  It brought back such good memories from my own childhood - remembering the beauty of trees and the sounds of the lake down to the smell of pine.  Beautifully done.'
Ramblings of a Book Junkie says:
'At times the dialogue was hard to follow and I did wish we could see more of the 
actual
 relationship of Jake and Sara, but overall it was a good read.'