Xiaomi is a Chinese company whose headquarters are based in Beijing. In short, it can be called as "All-rounder" as it creates, designs develop, sells smartphones, mobile applications, laptops, computers, etc. The first Xiaomi smartphone was released in August 2011. It has gained popularity in the mainland of China, and gradually the market share has expanded over all parts of the World. The company was established by Lei Jun. He is the 23rd richest person in China according to the magazine Forbes.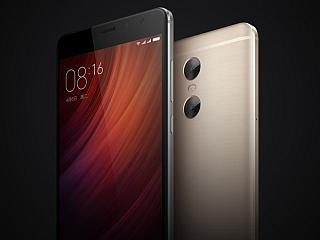 It also has a great all-time record that 60 million smartphones were sold all over the world in 2014. Employees of Xiaomi were fans of Mi before they join the team. There are almost 8,000 employees in the countries like India, China, Malaysia, and Singapore. It has also recently expanded its establishment in few other countries like Indonesia, Philippines, South Africa and Brazil. According to the IDC stats, Xiaomi was the recognized as the third leading smartphone maker in the World next to Samsung, Apple Inc, followed by Lenovo and LG. In 2014, especially in China, Xiaomi overtook Samsung and became the leading smartphone seller.
This China smartphone Xiaomi Redmi Pro entered Indian markets through a popular and well-known online shopping site "Flipkart." Xiaomi always believes in customer feedback, and they work closely on it. The obtained feedback from customers is always considered seriously, and Xiaomi starts working on them and releases the upcoming mobiles by modifying the issues that were noticed before. In order to reduce the operating costs, they have not think about the physical stores, and they always sell Xiaomi mobiles online.
They also sell most of their latest releases on 91mobiles.com where a customer can compare the price, specifications, and many other things of a particular device with the help of a tool called "Compare." The portal attracts most of the users because of its special features of including the brilliant tools Compare and Spec score. The details of a device are clearly described and including the price is mentioned under the product.
Xiaomi Redmi Pro is expected to release on 20th May 2017 and its price according to the Indian market is estimated to Rs17,990.
Below mentioned are the detailed specifications of the latest mobile:
Display and screen-
This device will have a 5.5inch OLED full HD display with the resolution of 1,080 x 1, 920 and the density of pixels will be 401 ppi. This smartphone is designed with metal body, and it is available in the three beautiful colors which are dark gray, silver, and gold. It can prove much helpful to the buyers who love to have mobile with different colors. The screen responds to multi-touch as it is equipped with multi-touch capacitive sensors also. It is a dual SIM device with Micro and Nano SIM slots.
Performance
The device is provided with a Fast Deca-core processor which is a prime attraction for the potential buyers. It operates on the latest Android version 6.0 Marshmallow with a chipset of MediaTek MT6797. It has Dual-core 2.1 GHz Cortex- A72. Hence, it is the right choice for the users who love to use more than one application at a time.
Camera
This device is loaded with Dual primary cameras which are with a 13MP plus 5MP rear camera. They have dual color LED flash and also feature of phase detection autofocus. Other known features of this device are ISO Control, touch focus, HDR, and face detection as well as CMOS image sensor. This smartphone has 5MP front camera also.
Storage and Battery
As far as the memory is concerned, there is no match of this device as it has internal storage of 32GB and 3GB RAM. It also has expandable memory on which can be expanded up to 128 GB with the help of the microSD card. Hence, for the users, who store huge data on the device, this can be the best device. With the enhanced memory, the user can store more songs and images as well as videos and movies.
Long battery availability is one of the aspects of the modern smartphone. This device is provided with a non-removable Li-ion 4050 mAh battery. It can last up to two days. Hence an average user must not run for the charging or power bank to save the mobile from being switched off.
Connectivity options
It is unarmed with other options of connectivity such as Wi-Fi, Bluetooth v4.2, GPS, and FM. This beautiful device has Micro and Nano SIMs. The device supports 4G, 3G and 2G on Indian bands. It is also provided with GPRS as well as EDGE. It also has Mobile hotspot support with the help of which one can use the internet on other devices also. It has A-GPS and Glonass. However, it does not support the Micro-USB which can disappoint the high storage lovers. The device also has fingerprint sensors mounted on the front side. There are also many other sensors such as light sensor, gyroscope, accelerometer and proximity sensor. Audio jack also can be connected to this device which can help one listen to the music as well as talk with the use of handsfree.
Price:
This device is expected to be launched at the price of Rs17990 in India which makes it a player in the medium price segment which is usually preferred by the upper middle class of the buyers.
Verdict:
In this segment, there are many other models from different brands, and some of them already have got huge market share also. However, there are some features which are not ordinary in this segment. For an average user, it is a classic device at a medium price. Hence the market experts believe a tough competition among the players in this segment in coming days as there are many other brands with models present in this segment. As far as the performance of the device is concerned one needs to wait for the release of the model and see how it performs.