World War II Events Today, March 16
Mar 16, 1935 – Hitler institutes compulsory military service.
Mar 16, 1938 – Mussolini changed his opinions on the occupation of Austria in favor of Germany instead of his previous position for Austrian independence.
Mar 16, 1938 – The full Japanese offensive against Tengxian, Jiangsu Province, China began at 0800 hours with a bombardment by mountain guns and aircraft. Japanese troops attempted multiple times to rush into the town via collapsed portions of the city wall, but most of the attackers were cut down by C…hinese troops. The east gate was taken at 1700 hours, but it was recaptured by the Chinese at 2000 hours. Through the night, 1,000 men from the Chinese 370th and 372nd Battalions were able to sneak into the town as reinforcement.
Mar 16, 1940 – German Luftwaffe aircraft bombed the Royal Navy base at Scapa Flow. James Isbister became the first British civilian to be killed by a German bomb when his house in the Orkney Islands was hit.
Mar 16, 1942 – Submarine Permit (SS-178) delivers ammunition to Corregidor, evacuates code breakers.
Mar 16, 1945 – On Iwo Jima, a month-long struggle comes to an end, as U.S. forces capture the 8-square-mile island. Possessing Japan's last line of radar defense to warn against American air attacks, Iwo Jima is a strategically significant prelude to the invasion of Okinawa.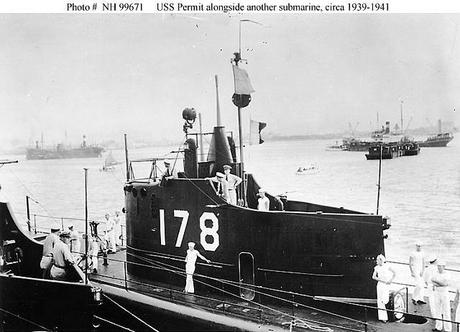 USS Permit (SS-178) alongside another submarine, circa 1939-1941.
Probably seen from USS Canopus (AS-9) in Manila Bay, Philippines.