WWII Events Today, April 22
Apr 22, 1941 -Emmanuel Tsouderos was named premier of Greece.
Apr 22, 1941 -Two thousand US Army reinforcements were sent to the Philippines.
Apr 22, 1942 – Apr 23, 1942 -14 German U-boats were refueled and resupplied 500 miles from Bermuda, giving the Germans a total of 18 submarines to operate almost unmolested from Nova Scotia to Florida.
Apr 22, 1942 - 15 French hostages were executed by the Germans in Paris.
Apr 22, 1942 -A Joint US-New Zealand Naval Command was established.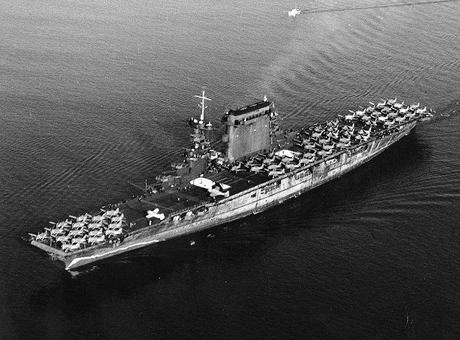 Apr 22, 1942 – Lexington joins Yorktown at Tongutabu to prepare for expected battle.
Apr 22, 1942 -Washington announced that US forces had arrived in India.
Apr 22, 1942 -Yenangyaung in Burma was evacuated by British forces.
Apr 22, 1943 -Allied forces in Tunisia began the final phase of the North African campaign. The main thrust was directed at the capture of Tunis and Bizerte.
Apr 22, 1944 -Fighting ended on New Britain.
Apr 22, 1944 -Russia concluded peace talks with Finland.
Apr 22, 1944 -US Army amphibious forces landed near Hollandia, New Guinea.
Apr 22, 1944 -Yugoslav Partisans occupied the German-held island of Korcula in the Adriatic.
Apr 22, 1945 -Hitler refused to leave Berlin although its encirclement was imminent. Units of the First White Russian Front continued to advance in the eastern suburbs.
Apr 22, 1945 - Indian troops of the Fourteenth Army recaptured the Yenangyaung oil fields, the largest in Burma. Most Japanese forces were ordered to withdraw from Rangoon and move back to Pegu and Moulmein.
Apr 22, 1945 -Mindanao's Japanese force was split in two as the US X Corps landed as a blocking force.
Apr 22, 1945 -Palawan is declared secure.
Apr 22, 1945 -The French First Army reached Lake Constance. US Seventh Army forces swept to the Danube. Field Marshal Alexander said German units in Northern Italy had "no hope of escaping." Allied planes hammered at the Alpine escape passes.