WWII Events Today, May 23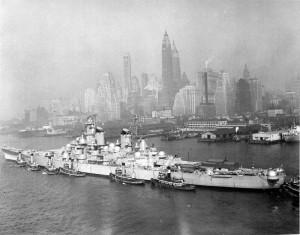 USS New Jersey (BB-62)
May 23, 1939 USS Squalus (SS-192) suffered a catastrophic main induction valve failure during a test dive off the New Hampshire coast and partially flooded. The submarine sank to the bottom and came to rest keel down in over 200 feet of water. 26 lives were lost.
May 23, 1942 Plan of attack on Midway and Aleutians known, extent of forces not known.
May 23, 1943 USS New Jersey (BB 62) was commissioned. During WWII, she participated in the Battle of the Philippine Sea, Battle of the Leyte Gulf and supported the Iwo Jima and the Okinawa Campaigns in the Pacific theatre. Decommissioned in 1948, she was recommissioned for the Korean War and served until 1957. Recommissioned for the Vietnam War in April 1968, she provided gunfire support until decommissioned the following year. New Jersey was then recommissioned in 1982 and served until Sep 1991. New Jersey currently serves as a museum ship at Camden, New Jersey.
May 23, 1944 The tempo of the Allied air blitz is up with a record 1,045 heavy bombers striking targets across Western Europe. Escort is provided by 96 P-38s, 142 P-47 Thunderbolts and 324 P-51 Mustangs.
May 23, 1944 – May 26, 1944 USS Brooklyn (CL 40), USS Ericsson (DD 440) and USS Kearny (DD 432) shelled enemy positions in vicinity of Ardea, Italy, with good results. The three ships repeated bombardment of troop concentrations and supply dumps on 24 and 26 May with equal success.