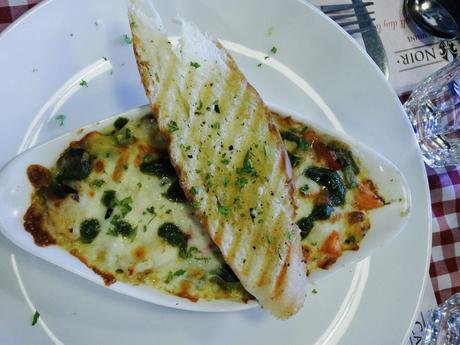 Last weekend, I met up with fellow food bloggers when we all descended upon Kalmane Koffees in VR Mall for a sampling of some of their lovely coffees and short eats.
Once we were done with that event, we spent a lot of time shopping and generally hanging around in the mall, and there was so much to catch up on, that we ended up drifting into Cafe Noir for a late lunch.
We weren't very hungry so we just ordered one dish for each of us, and then shared a large-ish eclair amongst ourselves.
Cafe Noir (as you can guess from the name) is a French joint with a scattering of breakfast options (mostly eggs in one form or the other), pastas, bakery items, and desserts.
I can't comment on the salmon or the chicken as I didn't try it, but my friends seemed to love them, and the salmon croque especially smelled wonderful (even to a veg like me).
My veg-au-gratin was perfectly proper. I liked that the quantity of the veggies were generous, and the cheese wasn't overpowering. So, yeah, I was happy with the dish. Although if you are hungry, you might still feel hungry after this dish.
At least I was still hungry, so I went ahead and ordered a chocolate eclair to be shared by all of us.
The eclair was nice. It should have been a wee bit crunchier to bite into, but otherwise it was a perfectly good eclair, and something that I will definitely reorder next time I visit.
Decor is a little bit cheesy, overly Parisian in style, but on a nice day, it's very pleasant to sit in the outdoor seating area for snacks, while you watch kids play in the water fountains outside. Full-blown meals though, I'd prefer the dark interiors.
Overall highly recommend this unpretentious little place for light lunches or brunches.