Christ Church, Spitalfields last weekend. Photo: Melanie Clegg.
Ripper Book Progress, week ending 9th June 2013:
Current word count – 47,473/90,000.
Body count – 4/8.
Most overused word – 'guts'.
Favourite line this week – 'See no evil, hear no evil and no evil shall come to you.'
Title – From Whitechapel.
This week's interesting research fact – Catherine Eddowes had a tattoo. (I already knew this obvs but I thought you'd all be interested.)
Incidences of The F Bomb – three.
Music on repeat while writing: Nine Inch Nails – Came Back Haunted.
Snogs – none. But there's one coming soon!
Knocks over the head – one.
Scenes of brutality in alleyways – one.
Mention of 'eels' – none.
Victorian ambience level – RIDICULOUSLY HIGH. 11/10 on the Victorian Ambience Level Detector.
Use of surnames from my Facebook friends list – eleven so far.
Current open thesaurus.com tab – 'grim'.
Current permanently open research tab – 'Casebook: The House Where Jack Swilled? An Investigation of Pubs, Beer and the Ripper.'
Overall feeling – Cheerful acceptance of my fate.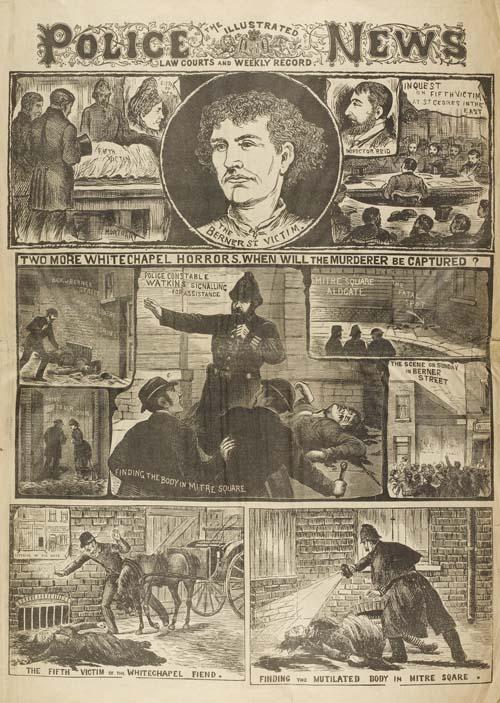 Illustrated Police News, October 1888. Photo: Museum of London. Note Inspector Reid in the corner there – looking VERY unlike the dreamy Matthew MacFadyen, who is, fact hounds, EXACTLY a week younger than me.
This week has been a bit slow on the writing front as I've been so busy but I've managed to turn in a few thousand words, do some research, come up with a title and plan out the rest of the book, which is proving more intricate a proceeding than I had intended.
When I first started this book it was going to be a third person sweeping view of the characters but after a meeting with an agent, I was persuaded to try and transform it into a third person multi character novel. I wasn't sure how this would work but am glad I gave it a go as it really has transformed it into something that I think is quite good – to the extent that when I read it back to myself after a writing spree I find myself thinking 'Bloody hell, did I actually write this?!'
I've been thinking about the overall fate of this book as well – I have a couple of agents interested in reading it when I've finished (and have had very encouraging feedback already from one of them) which is nice but trade publishing moves so slooooooowly and I am really impatient so I don't know if I want to wait potentially YEARS for this book to be out and in your hands, especially as people seem to be actually REALLY excited about this book (even my father in law has said he's keen to read it!). Also, what if they try to make me have a cover I don't like? Or make me change the ending? Or the title? I think I'm just going to keep on writing and not think about stuff like that until it's finished as it's all just too nerve wracking!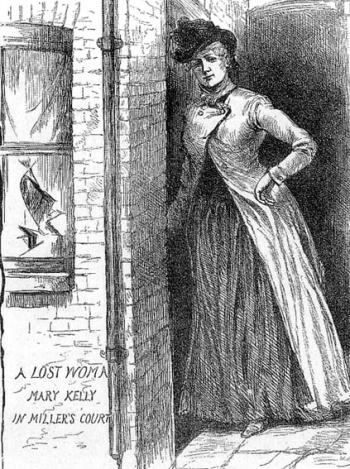 Contemporary and imaginative engraving of Mary Jane Kelly. She's in my book and we've already paid two gin swilling visits to Millers Court, the mere mention of which is enough to creep me out good and proper. Lawks.
Anyway, I digress – in book related news, I'm giving a talk to the local Women's Institute about From Whitechapel and being a historical novelist in a couple of weeks time (if you're a fellow Bristolian, let me know and I'll give the details if you fancy coming along and heckling me!) and, oh blimey, there might be something even more exciting in the pipeline soon as well, which I will tell you all about once it's confirmed!
Hope you are all having a brilliant weekend!
******

'Frothy, light hearted, gorgeous. The perfect summer read.' Minette, my novel of 17th century posh doom and intrigue is now £2.02 from Amazon UK and $2.99 from Amazon US.
We'll be saying a sad goodbye to Google Reader at the end of this month. Please don't forget to subscribe via one of the links on my blog sidebar so that we can still stay in touch!