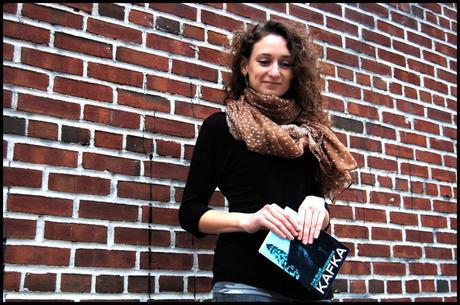 Kimberly Bunker is a writer and musician living in Brooklyn, NY. Her stories have been seen in PANK, Used Furniture Review, Storychord, and other magazines. She also plays piano and synths in the band Secret Cove.
Why Kafka? Why this book?
It was on my bookshelf, and I'd been meaning to read it. The other day I said something was Kafka-esque, before realizing I've only read maybe one of his stories, other than The Metamorphosis.
Tell us a bit about it. 
It was published posthumously and contains fragments of ideas, little bits of stories and descriptions and thoughts. There's no overarching narrative or theme (so far, anyway; I'm still in the middle of it). They read like little prose poems.
 What do you love about it? What do you admire about the writing?
I'm intrigued by the idea of reading something so personal and unedited, that was never intended to be published, especially from someone as iconic as Kafka. I've wondered before about that kind of writing by authors I love and respect, whether it's just as "good" as their revised, published work. In other words, are a writer's initial thoughts as interesting/substantial/worth reading as their heavily edited, public thoughts? I think there is brilliance and literary merit in all sorts of writing. This is sort of an example of that, finding beauty in accidental things. It's like listening to a musician improvise when he/she thinks no one is listening.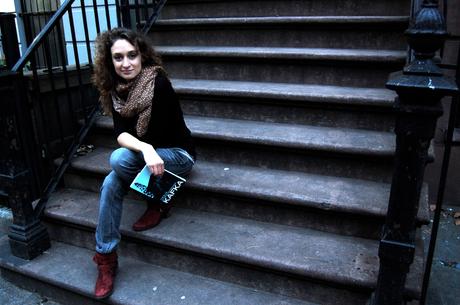 How does what you read influence the music you make?
I think the influence must be on a subconscious level. I'm very influenced by the ambience of what I'm reading, which might translate to playing, though I don't always notice a direct correlation. Sometimes I'll relate what I'm reading to the classical music from that time and place, and then learning or listening to that will influence my own music. Although I haven't learned any German or Czech music since starting The Blue Octavo Notebooks. Maybe I'll get on that.
This feels like a good place to pause and plug Secret Cove's new music video for "Alice." Check it out before you read on.
Share a striking quote. 
Here's a paragraph that stands completely alone:
"A Mistake. It was not my door, up there in the long corridor, that I opened. "A mistake," I said and was on the point of going out again. Then I saw the occupant, a gaunt, beardless man with compressed lips, sitting at a little table on which there was only an oil lamp."
I think that's so beautiful. It reminds me of a tiny version of his story "The Helmsman." It's like a little peek into a potential world. Like a shard of a mirror that reflects an infinity, but that infinity is gone.

Tell us more about Secret Cove.
Secret Cove began on a flight between London, England and Accra, Ghana. The music has carried its members from London to Boston, Silver Lake to Brussels, and a cottage in Michigan to a loft in New York City.
Johnny Zachman writes and arranges all the songs, plays guitar, and sings in the live set-up. I'm on piano and synths, and Dave Lucas plays the drums. The most recent release is the E.P Interesting Times: Three Singles by Secret Cove, which consists of three songs with accompanying videos, all of which are available for free on our website, www.secretcovemusic.net.