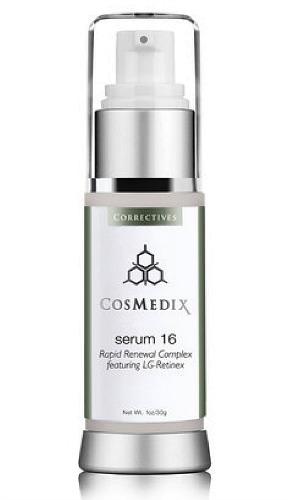 I never tire of test driving skincare products — especially those that rival the fancy schmancy, need-a-prescription products offered by Dermatologists. One that's knocking our complexion-loving socks off right now? CosMedix Serum 16! With its high-strength retinol and anti-aging ingredients, this wrinkle wonder gives prescription-strength products a run for their money — no office visit required. Here's the oh-so-awesome skin-ny, beauty enthusiasts:
Beauty 411: CosMedix Serum 16 (made with 16% LG-Retinex) is a proprietary GAG-enhanced encapsulation of retinol andretinaldehyde (which is skincare speak for "major anti-aging results"). This revolutionary skin serum is the closest thing to prescription-grade results without a prescription and has been clinically proven to visibly reduce the appearance of deep lines (including crow's feet) in just 6 weeks. (Noticeably firmer, smoother, and brighter skin in 6 weeks without a trip to the Derm? We're in!)
Beauty bottom line: This super-serum offers impressively effective results, with 88% of users reporting noticeably firmer skin in two weeks, 75% less apparent wrinkles in four weeks, and 90%+ brighter-looking skin. Crows' Feet, Cupcakes, and Cellulite's skincare testers echoed the same results with firmer skin, less deep wrinkles, and an overall radiance after only two weeks of use. Bottom line? We loved achieving prescription results without a prescription.
Who says miracles don't exist? This wrinkle wonder has made us believers!
You can find CosMedix Serum 16 ($78 for 1 oz) at Dermstore.com, Skinstore.com, and CosMedix.com. Happy firming, smoothing, and brightening, beauties!
What do you think, readers? Will this serum make its way to your skincare cabinet?

Crows' Feet, Cupcakes, and Cellulite does not accept compensation for reviews. Samples may have been provided. Opinions are 100% the author's own.