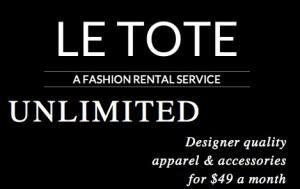 Imagine a Netflix style approach to your wardrobe.  Founders of Le Tote, Raskesh Tondon and Brett Northart, think it is a brilliant idea.  Tired of hearing the women in their lives complaining about not having a thing to wear (despite having a closet full of clothes) they created this borrowing type service for fashion.
How Le Tote works is: for $49 a month you become a member of a huge borrowing closet.  You can't decide which pieces you get but each "tote" comes with three items of clothing like pants and shirts, as well as two accessories like necklaces or earrings.  When you're done with them, you ship them back in a pre-paid box and they send you new items.  Geographical location plays a part in what you get as does size (currently they offer sizes 0-10.)
While I think the idea has legs, I think there are a few flaws in it.  A service like Le Tote is great for a young woman just starting out in the workforce, who may not be able to afford an extensive wardrobe.  I also think this company is a great idea for women who may be gaining or losing weight.  Yet, the problem is they only offer clothing up to a size 10.  What a missed opportunity.
The other thing I don't like is that you can't decide what you are going to get.  If we're comparing Le Tote to Netflix, it would be the equivalent of giving the company limited information and letting them decide what movies you want to watch.  Sure, many women may have a hard time deciding what to wear, but a company deciding for you hardly seems like the best alternative.
Lastly, fit.  With no standardization in the fashion industry who knows what size you will wear, and considering you have no control over what they send you, it's not like you can choose what you want, check out that particular brand's sizing measurements and make a decision.  In fact, all garments from Le Tote have their label put inside of them.  I'm assuming that they'll just pull items based on generic size number and, as any woman who has lugged multiple sizes into the dressing room, nobody is one size.   Tailoring also has to be considered when finding well fitting clothes.  I think this company would be smart to avoid the hard to fit items like pants, which most people require at least a hem.  If they focus on easier to fit items like tops, sweaters and skirts, they may have a shot.  What would probably be an amazing service is if they focused exclusively on selling accessories.  Now that would be fun and would bypass the fit issue altogether.
Well, my hat's off to these two founders (both men) who make it clear that they don't do the styling or garment selection.  Let's see where it goes, how women respond to it and if this solves anything.  I wish I was more optimistic, but I certainly wish them luck.
What do you think of a clothing borrowing program like this?