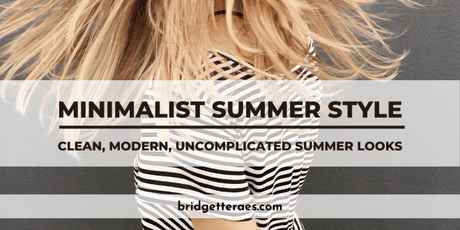 Do you find boho style noisy and complicated? Have you always preferred clean lines, solid colors and minimal accessories and been picky about prints? You have probably already guessed you have more of a minimalist style.
What is a minimalist style
There is a difference between having a minimalist wardrobe and a minimalist style. A desire for a minimalist wardrobe isn't an indicator of style preference, it's simply that you prefer to have less in your wardrobe. A minimalist style is an aesthetic which includes less fuss, a preference for solid shades, typically neutrals, an austere and simple appearance, and the avoidance of complicated details for modern ones. In this post, I get into more details about minimalist style and some brands worth considering.
Minimalist Summer Style: Clean, Modern, Uncomplicated Summer Looks
I have put together some minimalist summer looks to give you some inspiration if you feel that this type of look defines your style.
Outfit #1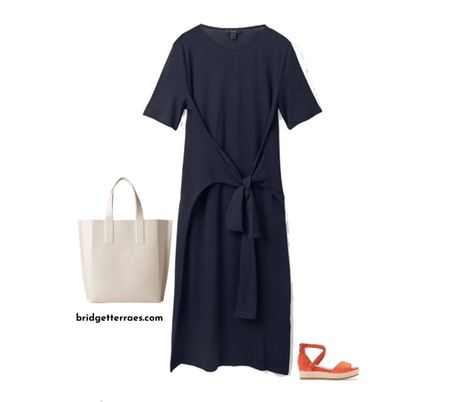 This minimalist dress from Cos has a lot going for it. The tie-front allows you to gently shape your waist while the sleeves add coverage without a layering piece. I styled the dress with orange Eileen Fisher sandals and a bone color tote from Cos.
Outfit #2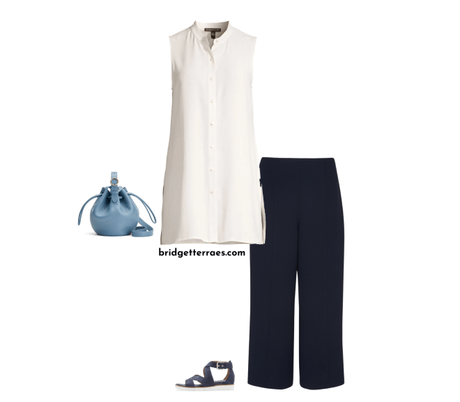 This top from Eileen Fisher and wide-leg cropped pants from Whistles creates an easy summer minimalist look. I styled these pieces with navy sport sandals from SĂśfft and a soft blue bag from Cuyana.
Outfit #3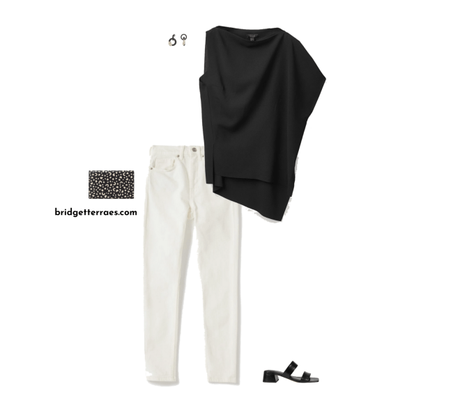 Minimalist style does not mean a closet full of basics. This black crepe, drape top from Cos adds some novelty to a look without going overboard. I styled this top with white jeans from Everlane and finished the look with a black and white wallet clutch from Dagne Dover and black and white simple earrings.
Outfit #4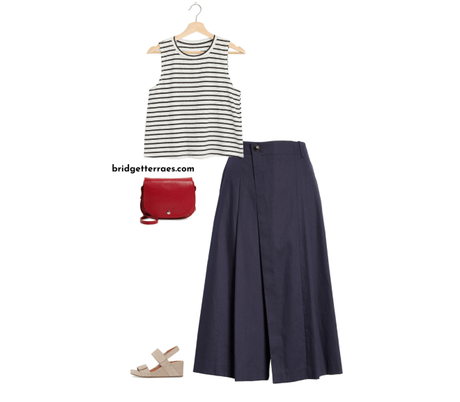 This pair of cotton culottes from Vince offers the look of a skirt while giving you the comfort of pants. I styled them with a sleeveless striped t-shirt from Lou & Grey and finished the look with beige wedge sandals from Gentle Souls and a red crossbody from Longchamp.
Outfit #5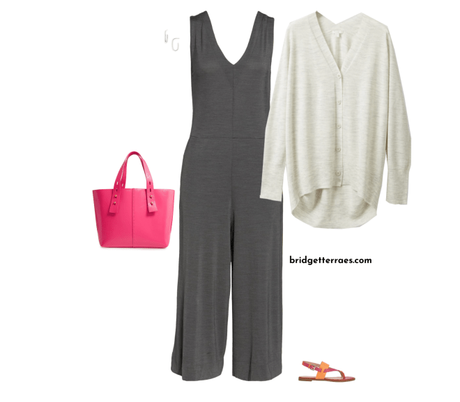 This last look is an easy, casual jumpsuit from Icebreaker that can just be thrown on for the most casual of days. I styled it with a cardigan from Cos and finished the outfit with colorblock sandals from Evolve, a hot pink tote from Frame, and oblong earrings from Kendra Scott.
There is a difference between minimalist and boring. Minimalist summer style is a simple way to look chic all season long.
Show you blog support.