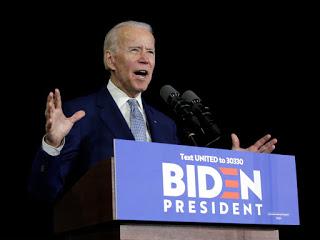 Joe Biden
Today is
Super Tuesday II
, and
according to a report at Axios
, the Joe Biden campaign has a big enough lead over Bernie Sanders that insiders have begun considering possible appointees to high-level positions. One of those rumored appointees is a jaw-dropper, who might turn off progressives and help resuscitate the Sanders campaign.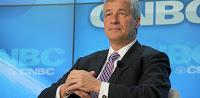 Jamie Dimon
Six states -- Idaho, Michigan, Mississippi, Missouri, North Dakota, and Washington -- will be casting ballots today, just one week after Biden captured 10 of 14 states in the Democratic presidential primary and took a delegate lead over Sanders. Can Biden continue to ride that mometum? Those connected to his campaign apparently think he can. From an
Axios
report titled "
Joe Biden's secret governing plan
":
Joe Biden confidants are privately discussing potential leaders and Cabinet members for his White House, including the need to name a woman or African American — perhaps both — as vice president, top sources tell "Axios on HBO."




Why it matters: Biden advisers describe a Return to Normal plan — a reversal of President Trump's unorthodox, improvisational style. Biden wants known, trusted people around him — many from the Obama years.


Several high-profile possibilities:
John Kerry would love to take a new Cabinet position devoted to climate change, or might even accept a curtain call to return as secretary of state.
Susan Rice, formerly President Obama's national security adviser, is another option for State.
Mike Bloomberg, who swiftly endorsed Biden after the former mayor's campaign collapsed, would be a top possibility to head the World Bank.
Sally Yates, the deputy attorney general under Obama who stood up to Trump and was fired, would be a leading contender for attorney general.
Sen. Elizabeth Warren as Treasury secretary could help unite the party.
Anne Finucane, vice chairman of Bank of America, is another possibility for Treasury.
Biden advisers expect Pete Buttigieg to get a prominent slot after his swift endorsement of Biden — perhaps as ambassador to the UN, or as U.S. trade representative.
Both would help credential Buttigieg for a future national campaign.
Biden's associates might be thinking ahead, but they say the candidate remains grounded:
Campaign officials say the name game isn't where Biden's head is — he knows he has major primary and general-election fights ahead.




Officials point out they don't yet have a transition — and haven't run a process that would surface new talent, like Dr. Steven Chu, the Nobel Prize physicist who was Obama's first secretary of energy.

But it's a sign of the sudden optimism around his candidacy that some in his circle of trust are starting to think down the road, starting with the V.P. pick:

Some Biden advisers hope he could overcome hard feelings from the Obama years and pick Warren for V.P. to excite party progressives.

Also high on the list of potential Biden picks for #2 are several African Americans: Sen. Kamala Harris (first on many lists) and Sen. Cory Booker, both of whom ended their nomination fights before the voting began ... former Massachusetts Gov. Deval Patrick, who ended his presidential campaign after New Hampshire ... and former Georgia gubernatorial candidate Stacey Abrams, who electrifies crowds.

Sen. Amy Klobuchar is in the mix, too.


Others who could bring diversity and relative youth to the ticket include Sen. Tammy Duckworth of Illinois and Rep. Val Demings of Florida, who got high marks as a House impeachment manager.


One adviser told us when we asked who the V.P. pick would be: "Whoever Jim Clyburn wants it to be."




Indeed, Biden feels Clyburn — the South Carolinian who is the highest ranking African American in Congress — helped raise him from the dead with his endorsement. Black voters on Super Tuesday sealed Biden's political salvation.
What about that jaw-dropper of a possible appointee? Here it is, from
Axios
:
Jamie Dimon — chairman and CEO of JPMorgan Chase, and mentioned over the years as a potential presidential candidate — would also be considered for Treasury.
That's the same Jamie Dimon who is credited with helping set off the Great Recession of 2008.
From a 2017 report at Vanity Fair
:
Four years ago, JPMorgan Chase reached a then-record settlement with the Department of Justice after, among other things, the bank received a copy of a U.S. attorney's draft complaint documenting its alleged role in underwriting fraudulent securities in the years leading up to the 2008 financial crisis. Following the bank's $13 billion financial agreement, the draft complaint was never filed. Then the bank paid another settlement to prevent a separate legal case from potentially unearthing it.
If Biden aligns himself with Jamie Dimon, will that go over well with liberals? Probably not. Will it indicate Biden is not serious about moving forward with at least a slightly progressive agenda? Yes. With that kind of tin-eared thinking, the Bernie Sanders campaign might still have a chance.