An edited version of Bill Pryor's photo
at the badpuppy.com gay "super store"
Web site.
Donald Trump is known for hiring and firing people on
The Apprentice
and
Celebrity Apprentice.
 He often brags that he surrounds himself with the best and brightest people, suggesting he and his staff are adept at conducting background checks.
That might apply to Donald Trump, businessman and reality-TV star. But it apparently does not apply to Donald Trump, presidential candidate.
At Saturday night's Republican debate,
Trump mentioned U.S. Circuit Judge Bill Pryor as someone he might nominate to the U.S. Supreme Court
. Pryor's duty station is the Huge Black Courthouse in downtown Birmingham, he lives in the Birmingham suburb of Vestavia Hills, and he is a former attorney general of Alabama.
Many people who closely follow politics and legal issues in Alabama know Bill Pryor has enough skeletons in his closet to outfit a haunted house. This apparently is unknown to Donald Trump.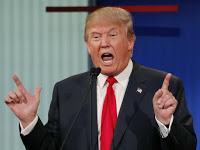 Donald Trump
Pryor's most glaring skeleton involves his connections to 1990s gay pornography, via a Web site called
badpuppy.com
. As we first reported in September 2013,
nude photos of Pryor (complete with glaring erection) appeared in the early days of badpuppy.com,
which has gone on to become a sort of "online superstore for gay porn," from its base near Cocoa, Florida. (Photos at the link above include a full-frontal version of one Pryor photo; a discreetly edited version of the photo can be seen at the top of this post.)
Pryor is a staunch opponent of gay rights, and the photos suggest he is a world-class hypocrite. From our initial report:
The photos appeared in 1997 on badpuppy.com, which was in its online infancy, having debuted in mid 1995. Based in Cocoa, Florida, the site has morphed into one of the largest gay porn sites on the Web.
Images obtained by Legal Schnauzer show Pryor posing completely nude, staring into the camera and sporting a noticeable erection. We see no indication that the photos were taken surreptitiously, without Pryor's knowledge. Sources say Pryor was college age when the photos were taken.
Pryor rose to national prominence in Republican circles on the basis of a staunchly conservative record, including consistent opposition to gay rights. He also has supported school prayer and the death penalty, while opposing abortion rights, making him a highly unpopular figure among liberal and progressive interest groups.
A married father of two, Pryor lives in Vestavia Hills and his federal-court duty station is in Alabama, with an office on the ninth floor of the Hugo Black Federal Courthouse in downtown Birmingham. Pryor revealed during his confirmation hearings that he and his wife, Kristan W. Pryor, rescheduled a family vacation to Disney World when they discovered the Orlando, Florida, theme park had scheduled "Gay Days" festivities at the same time as their planned visit.
How did the photos first come to light, and how did Pryor react when asked to comment on them? We addressed that in our initial post:
Alabama law-enforcement officials became aware of the photos at badpuppy.com in 1997, not long before Governor Fob James appointed Pryor attorney general. An investigation ensued, and multiple officials familiar with that process have told Legal Schnauzer that the photos are, in fact, of the Bill Pryor who now sits on the U.S. Eleventh Circuit Court of Appeals. Sources say the photos were taken while Pryor was a student at Northeast Louisiana University (now University of Louisiana Monroe) from 1980 to 1984.
Legal Schnauzer contacted Judge Pryor last Friday via e-mail, seeking an interview about the photographs and their possible implications for his role on the federal bench. Pryor responded as follows:
"I have nothing to say to you except that these accusations are totally false. 
Do not contact me again. 
Bill Pryor"
I replied by stating that these are not "accusations," they are photographs of an individual that multiple sources have identified as him. I further stated that I had every right, as a citizen and a journalist, to seek comment from a public official with a lifetime appointment, regarding matters of national importance. For good measure, I attached copies of the photographs. Pryor responded as follows:
"This is the last time I will respond to you. Those photos are not of me. 
Do not contact me again. 
Bill Pryor"
Pryor said the photos were not of him, even though
badpuppy.com
attached the name "Bill Pryor" to them, and the young man in the photos bears a striking resemblance to the judge. Was Pryor willing to sit down for a one-on-one interview, answering questions about the photos? No, he was not. Was Pryor willing to present family photos from his college days that might support his claim that the young man shown at
badpuppy
was not him? No, he was not.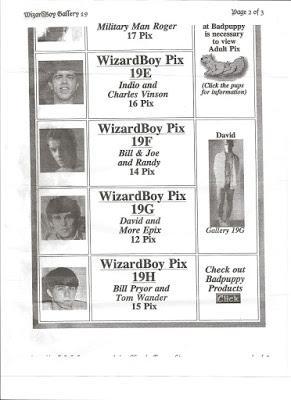 Bill Pryor at a badpuppy.com photo gallery.
When national reporters sought comment about the story, Pryor would not talk to them either.
He trotted out a former law clerk named Jennifer Bandy
to "issue a statement." Even Bandy would not take questions, it appears. Bandy now is with the Washington, D.C.-based law firm Kirkland and Ellis, so it appears her ties to Pryor--and her willingness to make herself look like a fool in public on his behalf--have paid off nicely.
Perhaps of most interest, the young man in the photo clearly has strabismus, a fairly rare condition that involves misalignment or crossing of the eyes. Recent photos of Pryor suggest he has strabismus, although it appears treatment (usually surgery) has improved his condition. Even if that is the case, multiple sources who have seen Pryor in person, up close, say his strabismus is quite noticeable.
In a post dated October 17, 2013, we addressed the issue of strabismus in the Pryor/gay porn story. We sought to interview him on the subject, via and e-mail that reads as follows:
Bill: 
This is a followup on my reporting at Legal Schnauzer.
Do you have a condition known as strabismus, which is a crossing or misalignment of the eyes? Have you ever been treated for strabismus?
Would you release copies of your medical records as it relates to any and all eye care?
Thank you,
Roger Shuler
Pryor did not respond to our query. He apparently wanted no part of the strabismus question.
How could Donald Trump and his team not know about Bill Pryor's dicey past? It's not as if this story did not receive widespread, national coverage. Among the many news and cultural sites that covered it was
Above the Law,
the No. 1 law blog in North America. (
Legal Schnauzer
is No. 37, thank you very much, according to a Chicago-based Web research and marketing firm called Cision.) Title of the
Above the Law
article: "
Underneath his Robes: Nude Photos of a Federal Judge
."
Has Team Trump not heard of
Google
?
Since Donald Trump put Bill Pryor's name back on the nation's front burner, we will try again to interview the Alabama-based judge about the gay pornography in his past. We will let you know how that works out.