The Honest Company, founded by Jessica Alba and Christopher Gavigan, is a new company (launched 1/2012) based in Santa Monica, CA that provides safe, non-toxic, and eco-friendly products centered on baby. They provide a wide range of products from all natural shampoo to adorable, plant-based and sustainable diapers. My review will focus on their diaper bundle service. Each month for $79.95 you can receive what is called a "diaper bundle". In this bundle you will receive a select amount of diapers based on your baby's size and (4) packs of 70 count wipes.



Once you have created your personal account on their website you will maintain a "nursery" for your child. The purpose of this "nursery" is to personalize your bundle through choosing patterns and sizing for your little one's diapers as well as a monthly delivery date. Each month you can mix and match patterns or if your prefer just choose white. Patterns include those pictured below as well as newly introduced styles such as hearts and multi-colored dinosaurs.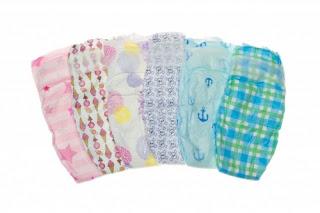 Your monthly subscription can be updated with your little one's sizing, patterns, or delivery date (adjust to make sooner if needed) at any time.  They even send out email reminders when your delivery date is approaching to update anything if you need to. You are also free to cancel your subscription whenever you choose. After your nursery is complete you can expect your delivery each month at your doorstep- no more running to the store for diapers and wipes! On a side note-make sure when you set your delivery date you allow approximately 5-7 days for shipping if you live on the East Coast- this is the approximate amount of time it takes for my shipment to arrive).
Having used both conventional and natural diapers in the past on my daughters, I have found these to truly be the best. They feature all of the same qualities as conventional diapers (without the nasty chemicals) such as a stretchy back panel and side tabs.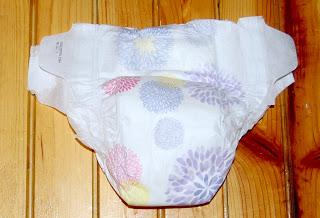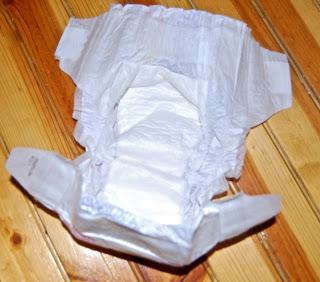 They also offer great leak protection. My daughter rarely ever has blowouts in these and when she has had them, I am sure they would have happened in any other diaper as well. One of the main reasons I found out about The Honest Company was because I was searching for a non-toxic alternative to the conventional diaper. This is by far one of the most non-toxic disposable diapers offered on the market. 
Ingredients contained in these diapers are the following:Chlorine-free fluff (paper from CERTIFIED sustainably managed forests – no optical brighteners), BIO-core (wheat/corn starch blended with SAP), plant-based PLA (in outer layer, inner layer, & moisture barrier layer), Non-Toxic adhesives (in seams & joints), polymer spandex and polyurethane (in fastening system & leg/waist elastic) & ink (no heavy metals) (NOT tested on animals)
The fragrance free wipes are also of excellent quality. They are soft, thick, absorbent, and I only require 1-2 per change. I have found that these are actually way better than any other wipes currently on the market. 
Ingredients contained in the wipes:Purified Water, Citric acid (fruit-based stability agent), Silver Dihydrogen Citrate (all natural, water-soluble preservative), Decyl Gulcoside (sugar-based cleanser), Sodium Citrate (corn-based antioxidant), Punica Granatum (pomegranate fruit) Extract, Glycyrrhiza Uralensis (licorice root) Extract, Chamomilla Recutita (chamomile) Extract, Cucumis sativus (cucumber fruit) Extract, and Peucedanum Ostruthium (masterwort leaf) Extract *Will Compost in Municipal / Industrial Facilities According to ISO, ASTM, and EN Regulations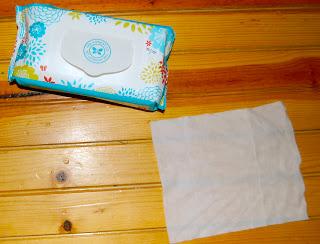 You can feel more than confident using these diapers and wipes on your baby knowing that no harmful chemicals are in contact with your baby's most sensitive areas.
As for the cost of the diaper bundle each month, they have created a price comparison chart for reference. I have shopped for other organic and natural diapers elsewhere and The Honest Company always comes out cheaper and more efficient for me since they include more than enough diapers and wipes in the monthly bundle.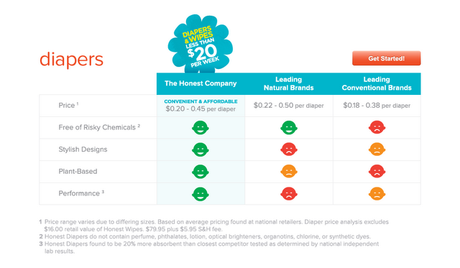 In addition to making superior quality diapers and wipes, The Honest Company has great customer service. They are always a call, email, or even Facebook message away. Whenever I have had a question it has been answered promptly by one of their friendly customer service representatives.
Another benefit of the subscription service is you can add up to 3 small items (so that they all fit into box with diapers and wipes) at 25% off.
All in all I am extremely happy with The Honest Company and feel there is really no comparison to any other diapers on the market. With the convenience they provide in the monthly delivery service, the peace of mind of natural products, and the exceptional quality, The Honest Company is definitely worth it.
To subscribe to The Honest Company diaper bundle service or check out any of their other products please use my referral link:
http://honest.com/2837
(The Honest Company awards $10 in credit for each referral :) )
Here is a picture of my little girl in The Honest Company "Sweets" diaper: