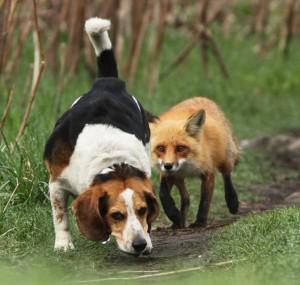 I found this on life with dogs and it is just hilarious!  I had to share.
Nature photographer Mircea Costina was observing a fox den when he captured this scene in a forest north of Montreal, Canada.
He said: "I have been watching this one fox family for three years since 2008. This year they had four little pups and the two parents are very protective. This one day, around 7am, I was close to their den, trying to take some pictures. Suddenly the two parents became very agitated.
In the next moments I heard a dog barking. The male looked to try and see the intruder while the female attempted to pursue him. The dog was getting very close to the den when the male saw the hound and started tracking it. Luckily the dog gave up and finally left and the family remained safe. I think he was more interested in the game of smelling the fox trace. The master recovered the dog and put him on a leash."