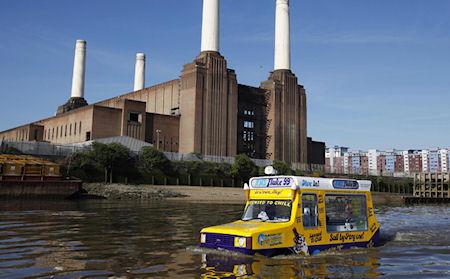 If you frequently find yourselves craving ice cream while sailing, you could be in luck... because the world's first amphibious ice cream van set sail on the River Thames. The bizarre vessel has been fittingly been dubbed the 'HMS Flake 99'. It was the brainchild of David Mounfield, a stand-up comedian from Brighton, who got to she his dream realised after winning an online competition.
David captained the amphibious
ice cream van
along the famous London river, much to the surprise of commuters on the riverbank... though non seemed desperate enough for an ice cream to swim over to him.
(thanks Cora)
related posts:
Songs For Ice Cream Trucks
World's First Ice Cream Truck For Dogs
The Presurfer