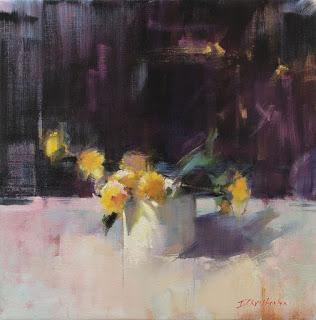 Composition to Completion WorkshopEllis Art StudiosJune 26 - 28, 2020Kelowna, BC
Last year's Composition to Completion workshop in Kelowna was such a success that I'll be teaching it again in June, 2020.   But, since I don't believe in repeating myself completely, I'm making a significant change.
Instead of focusing solely on landscapes as we did last time, this workshop will see the workshoppers tackle at least 2 genres.  They may be figurative, floral, landscape, urban landscape... you name it.
My aim is for painters to become comfortable in composing any subject into an interesting painting.
What will remain the same is the in-depth exploration of color and paint application methods.  I especially enjoy seeing the students' excitement on the day that we focus on color.  They realize that there is a logic to color and that they can figure out which colours to use for greatest effect in any situation. 
If you're interested in more information or would like to register, please contact
Ellis Art Studios
in Kelowna, BC.
I hope to see you there.
Happy painting!