Going Deeper: Color Challenges
4 - class online workshop
Saturdays, April 10 - May 1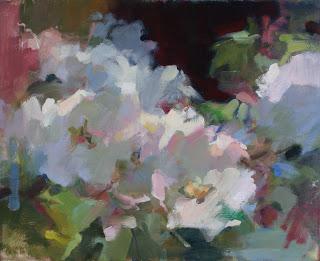 Last week I finished teaching "Going Deeper: Color Challenges", an online workshop for the Winslow Art Center and it was amazing!  
In it, I set weekly challenges that delved into a variety of simple palettes with an aim to learning exactly what our pigments were capable of.  We explored some of the many ways that artists can create light, harmony,  contrast, dominance and subordination, and much more.  
The responses from the workshop participants were glowing.  They found the workshop challenging and enlightening.  Many discovered palettes and techniques that resonated with them and that they wanted to explore more in the future - something that really pleased me.  A workshop should provide ideas that can be explored for months and years after the lessons are done.
I'm going to be teaching "Going Deeper" again, beginning on April 10! 
If you'd like to learn more about color and you'd want a challenge, please check the Winslow Art Center site for information and registration.
**Each class is recorded and you have unlimited access to watch it online for 30 days after the last lesson.  
I hope to see you online!