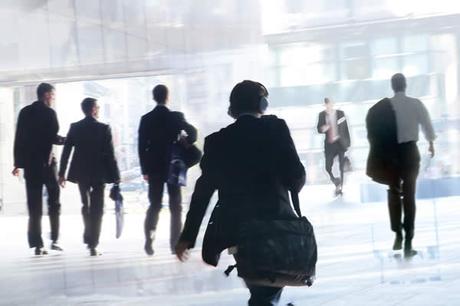 At most modern offices, professional clothes and dressy shoes are the norm for employee. Conventional wisdom says this stiff formal attire reflects the seriousness with which workers regard their jobs... but what's the first thing a person does after getting home from a long day at the office? Answer: enthusiastically shed the restrictive clothing and all-too-often uncomfortable shoes (perhaps while shouting "freedom!" in their minds), and break out clothes that are more natural and relaxed. We all saw Mr. Rogers do this on a daily basis!
In recent years, some managers and CEOs—especially those at start-ups and trend-setting companies—have begun questioning common assumptions when it comes to "appropriate" workplace attire. What happens when comfort is emphasized over formality? Can casual, or even downright cozy options still be professional? And what are the effects on workplace stress and employee well-being when super-comfortable options, such as slippers, are encouraged at work?
Companies Embracing Work Slippers
"If the average person spends eight hours per day at the office, it means they're probably spending more time at work then they are at home (not counting sleep)," says Doshay. "We want every Rainforester to bring their authentic self to work, and in order to do that the environment needs to be both comfortable and inclusive."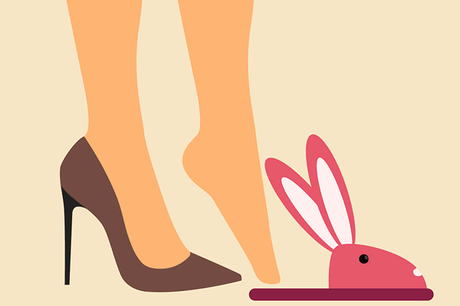 In this casual atmosphere—where footwear from tennis shoes to flip-flops are commonplace—about 30 percent of onsite employees at the tech company regularly wear slippers or socks at work. Doshay says employees are very positive about having the freedom to choose this option, and when potential hires come in for an interview, they always comment on the slipper rack.
"It really sets the tone for what we are about, and encourages flexible options for diverse preferences," Doshay says. "​I think encouraging comfortable attire is one small gesture that contributes to our larger culture." This and other initiatives, from catered lunches and onsite yoga classes to flexible work schedules, earned Rainforest a spot in Entrepreneur magazine's "Best Company Culture" awards.
Companies in the U.S. aren't the only ones shifting their thinking about workplace comfort. In fact, the trend of wearing slippers at the office might be even more popular in the UK and Scandinavia. The Telegraph reports that Sweden, especially, has joined what they call the "slipperati" in full force. In speaking with the paper, Swedish CEO David Brudo, who has instituted a no-shoes policy at his office place, says, "If you can have a relaxing office etiquette it can be very positive for workplace performance and how you experience stress and productivity. If you're comfortable you're less prone to feel stress and perform better."
Workplace Comfort and Performance
As Brudo notes, encouraging employees to wear slippers or other comfortable items at work isn't just about being cool or trendy. Much anecdotal evidence and some studies suggest that such steps could have an impact on how employees perform at work. Companies are taking their cue, in part, from educational research that shows how going shoeless at school can increase student learning.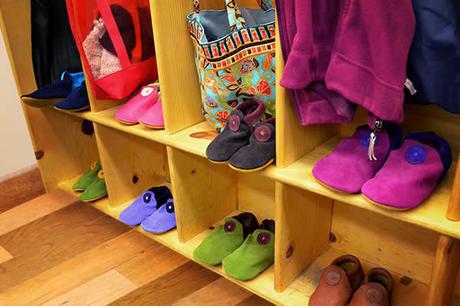 Many Waldorf and Montessori schools require soft-soled classroom shoes for students, and Softstars are a favorite!
A decade-long study by Bournemouth University in England found that schoolchildren who don't wear shoes are likely to get better grades and even do better behavior-wise than kids who have to wear shoes. The researchers observed tens of thousands of kids over the course of the study and determined that wearing slippers instead of shoes led to better engagement by the kids, and this, in turn, led to better academic performance. Many Montessori and Waldorf schools worldwide prescribe soft-soled classroom "slipper" shoes for this very reason. It's easy to see how this kind of relaxed, comfortable engagement could transfer to the workplace.
Read more about minimal shoes in the classroom
Softstar Shoe Styles for Work
Here at Softstar, employees are encouraged to dress casually and we're naturally thinking about comfy shoes already! Moccasins are especially popular among employees, and it is not uncommon to see several of us walking around in socks or bare feet, especially in summer. Softstar employee Emily says being able to wear socks, slippers or moccasins at work is important to her. "I know my employers really care about me and my comfort, and that means a lot," she says. "Wearing socks or comfy shoes definitely affects my mood. I can't imagine what my mood would be like if I had to wear uncomfortable formal shoes all day. I know I wouldn't be as productive or happy."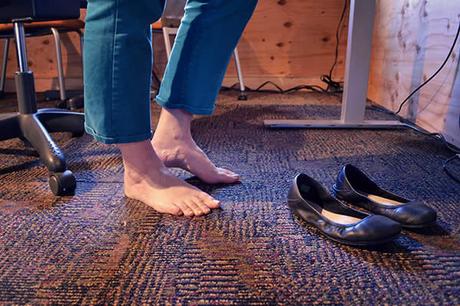 Softstar owner Tricia Salcido sets the standard by going barefoot in her office.
If you work in an office that encourages employees to don slippers or other comfy footwear, we have a few options that would work especially well. Our Fireside Slippers are feather-light and fully lined with genuine, high-quality sheepskin. Real sheepskin wicks away moisture and is naturally homeostatic, meaning it regulates temperature, whether it is a sweltering afternoon or a chilly winter day. This will help you stay comfortable all day in any office environment.
Our buttery-soft elk leather Roo Moccasins will also keep your feet in paradise while you work. These mocs are made from wild-harvested North American elk leather, giving them durability, exceptional softness, and a rich, rustic texture. They're roomy, relaxed, and have soft, suede soles. If you'd like to add some splashes of color to your workplace foot wardrobe, check out our customizable Roo Moccasins, available in several colors of suede or smooth leather.
If your office place hasn't yet embraced the cozy trend of work slippers, perhaps this article will convince you and your co-workers to kick your formal shoes to the curb! If not, hey, we have many styles that give off a classy vibe but are still super comfortable and come with that barefoot feel we all love. Many customers are fans of our Hawthorne Chukka boots for this kind of versatility.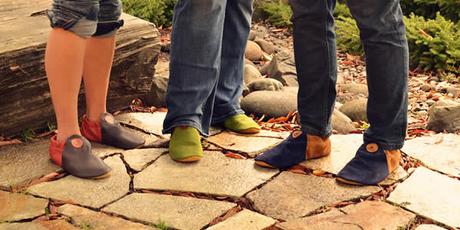 Softstar moccasins come in a variety of colors and materials.
Related Posts:
Stand Up for Your Health! 4 Tips You Should Know About Standing Desks
Got Cold Feet? Those "Killer" Shoes Could Actually Be Deadly!
Bunion Treatment Without Surgery - It May be Easier Than You Think