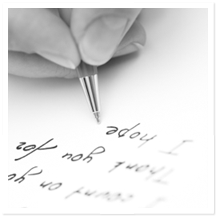 If someone close to you has recently lost a loved one, these words of condolence for sympathy messages will help you write a heartfelt condolence message that shows how much you care. It can be difficult to put our thoughts and feelings into words, especially during a tragic event like the loss of a friend or relative. We want to show them that we are there for them, but not say anything that will cause further grief and sadness.
First, it is important to know the difference between a sympathy message and condolence letter. A sympathy message is a short message that can be written in a card or email, or delivered by a phone call or in person at the funeral. A condolence letter is a far longer and more personalized message sent to a person grieving the loss of a loved one.
When writing a sympathy message, be sensitive and keep it short, simple, and straight to the point. It is not necessary to express all of your thoughts and feelings. The purpose of a sympathy message is to express your condolences and show the family that your thoughts are with them during this difficult time.
When choosing the words of condolence for sympathy messages stick to comforting and soothing words. The following words are commonly included in sympathy messages: Sorry, Thoughts, Prayers, Miss, Genuine, Strength, Peace, Saddened, Condolences, Loss, Sincerely, Comforted, Memory.
The following list takes the most popular words of condolence and turns them into phrases that you can include in a sympathy message to someone you care about.
Words Of Condolence For Sympathy Messages
Our thoughts and prayers are with you.
You have my deepest sympathy.
Thinking of you at this time of sorrow.
He or she will always be in our hearts.
I am sincerely sorry for your loss.
Words fall short of expressing my sorrow for your loss.
My thoughts and prayers and with you and your family.
I was very saddened to hear that ______ has passed away.
Our warmest condolences to you and your family.
No words can describe how sorry I am for your loss.
Thinking of you, at this time of loss,
We will greatly miss him or her.
Thinking of you with sympathy.
His or her greatest joy was making others happy.
I will be thinking of you in this moment of pain.
Words fall short of expressing the sorrow I am feeling.
My families hearts are with you and your family.
May God's Grace give you strength during this difficult time.
Someone so special can never be forgotten.
I am very saddened to hear of your loss.
Please accept our condolences.
We pray that your heart and soul will find peace and comfort during this difficult time.
Our deepest sympathy is with you.
In honor and remembrance.
Sharing in your sorrow. With love and friendship.
Words of condolence are not the only way to express your sympathy to a grieving person. You can cook a meal, make a donation, send flowers, give a sympathy gift, or simply give the person a hug to show how much you care. Whatever you choose, the grieving person will appreciate the act of kindness.
A sympathy message is a thoughtful way to let a person know you are thinking of them. No matter what way you express your condolences, it is important to know the most common words of condolence. Words of condolence for sympathy messages are a nice way of helping to heal the grieving person's heart and lett him or her know that someone out there cares.