When I redesigned my website this year, I wanted my latest articles to take center stage on my landing page.
I first installed a plugin called RSS Multi Importer to display all my outside RSS feeds there. It worked wonders until I realized one thing: Only a small number of articles displayed a thumbnail. The rest was just text.
I knew that the plugin was not at fault. So, I decided to try and find a solution.
After weeks of research, I am happy to report that there is a trick. If you are encountering the same issue on your WordPress blog, here are the steps to take.
1) Check your RSS feed
Find your feed by adding "/feed" at the end of your link (e.g., http://www.creativeramblings.com/feed). Then, look for the image tag in any post.

If it is not there, then you need to implement the feature. Head over to step 2.
2) Add featured images to your posts
Log in to your WordPress dashboard and edit one of your posts. Then, scroll down the page to find the Featured Image section in the right sidebar, and click the "set featured image"  link.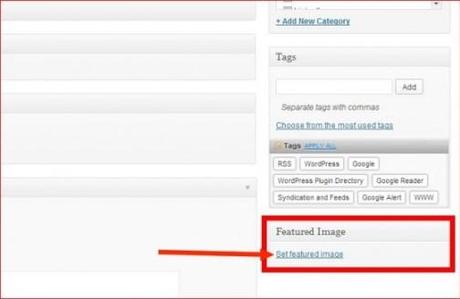 Choose the picture from your list of media and click the "Set featured image" at the bottom right. Et voilà!
3) Other option: Install a plugin
If, like me, you write a lot, you may not be amused by the idea of editing all your posts one by one.
Luckily, there is a plugin for that. SB RSS Feed plus automatically fills in the Featured Image section of your posts. Here is more information from the official page:
This plugin will add post thumbnail to RSS feed as "media:content" and "enclosure" tags.
Image is also added to HTML part of "description" and "content:encoded" tags.
You can also add server signature to end of feed content in form "Source: XYZ".
Inject advertisement (image with link) after nth paragraph of each post.
NB: This plugin must be installed on the blog whose feed you want to import to an outside page.
Want to see the result? Head over my website!
I hope this short article was useful to you! Leave your thoughts in the comment section below.