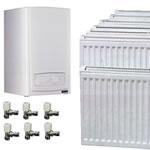 There are some fantastic heating packson the Discount Heating Website at really decent prices, with choices in bothgas heating packs and oil heating packs. The packs consist of boiler, flue kit,a choice of 6 or 7 radiators and valves. One in particular I really like is theWorcester Greenstar 37CDI Condensing Combi Heating Pack. The Worcester boiler itself is highlyefficient, made to a very high standard and considered to be one of the bestavailable today. The Stelrad radiators are also made to an excellent standardand offer a good range of sizes. Overall this pack offers value for money andis ideal for new builds and renovation projects.

Worcester Greenstar 37CDI Condensing Combi Heating Pack
Pack comprises of:
• 1 x Combi Boiler
• 1 x Standard Flue Kit
• 7 x Stelrad Compact Radiators (up to 35,000 btu's)
• 6 x Bulldog TRV Pack
• 1 x Bulldog Manual Valve Pack
All Compact pack options include 450, 600 & 700mm K1, K2 & P+radiatorsup to 1600, long. With factory fitted side panels and top grills.
Discounted Heating UK
Price Match and Quality Service
Over A Decade in Business