While I've enjoyed the past month mostly yoga'ing, reading, writing and eating my way around Ubud, Jesse has been spending his afternoons learning wood carving from two artists in the next town over. I asked if he could write a little bit about what he's been up to and he graciously agreed, so here goes: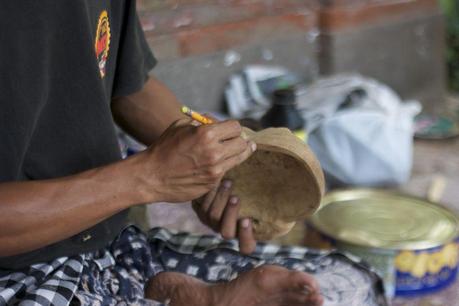 For the last few weeks, I've been spending a little time every day learning to wood carve from two brothers in Mas. I.B. Oka and Anom (the brothers) work from a small studio and gallery space inside their family compound and woodcarving has been in their family for generations - in fact, Mas is specifically a woodcarving town, meaning that the majority of families there see woodcarving as their particular trade. We've learned that nearly all small towns in Bali focus on a single type of art, whether it be wood carving, stone carving, bone carving, or egg painting(?), among others.
As egg painting has never felt like my true calling, we're lucky to have ended up near Mas.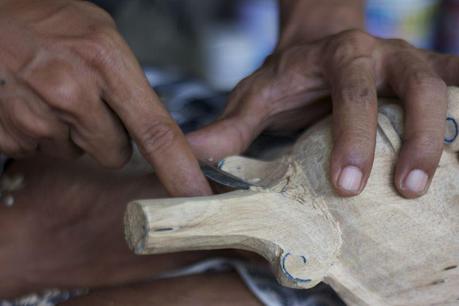 I've always wanted to learn to wood carve but have never had the extra time to really sit down and learn. So a few weeks ago, adrift in a sea of expendible time, I made my way over to Mas on a fairly random recommendation from a taxi driver in Ubud and stumbled upon Oka and Anom.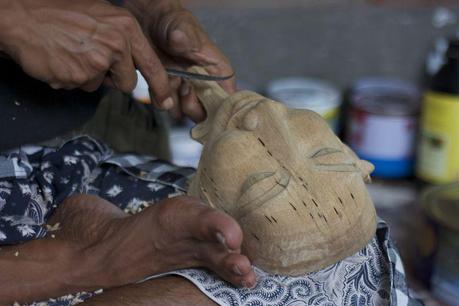 After arriving at their family compund and cautiously poking around, I was introduced to Oka who I then spoke with for quite some time. We eventually came around to the subject of wood carving, I told him I'd like to learn, and he agreed to teach me. A surprisingly simple process. And so for the last few weeks, I've been taking the motorbike over to Mas for a few hours every day to sit with these two guys and work on my very first project...a bowl.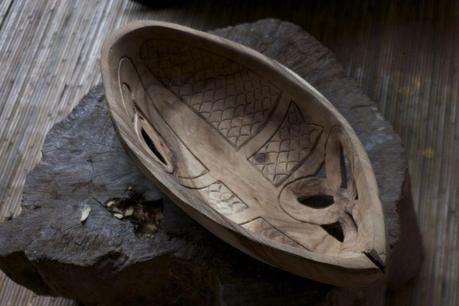 I first sketched out what I wanted to make and showed it to Oka. He disappeared for thirty minutes and came back with a large block of wood, cut roughly to the size of my dream bowl. He helped me shape it down with a hatchet, and then got me started with a broad chisel (all of his tools are made by a blacksmith in a neighboring town) to begin making my block more bowl-ish. After a few days of carving out the inside, I moved to the outside, then spent two straight days hand sanding. Since then, I've been working on carving designs on the inside and out to...you know...make it nice and all.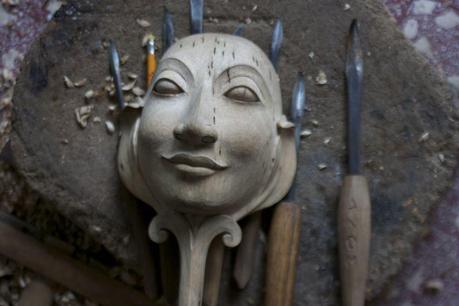 It was actually an incredible stroke of luck to to find Oka and Anom. Both are highly regarded as artists in the area and incredibly humble. It took several days of working with them to learn that their work has received some pretty significant international acclaim. Oka has had exhibitons in Japan, Singapore and Jarkata, among other locations. Anom has had international exhibitions in locations including Santa Fe and several of his masks are part of an upcoming exhibition at the Asian Art Muesum in San Francisco this July (he'll actually be in SF at the museum on July 23rd and 24th giving mask making demonstrations...definitely worth a visit if your're in the area.)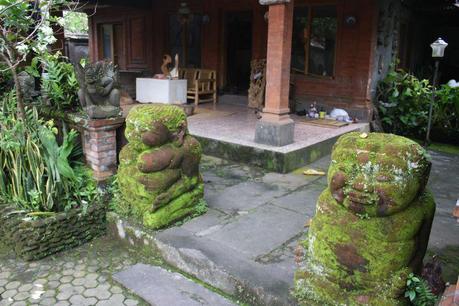 Anom, who specializes in mask making, has made masks for many large theatres and performance gropus. While I was working one day, a theatre group from France arrived to pick up a number of his most recent pieces for an upcoming performance. The one below is a rooster - the feathers from which were "recovered" from a local cock fight.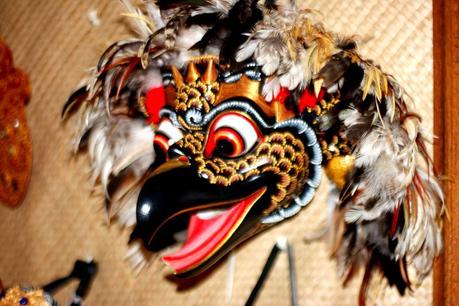 So all in all, my first foray into woodcarving has worked out pretty well. I get to sit with these two guys every day inside their family compound and under their guidance work on my humble bowl while they chrurn out museum quality works. All for a very low fee (around $20/week), I get fantastic company and some pretty unique instruction. The jury's still out on the bowl, but regardless of the verdict, after all this work we'll definitely be FedEx'ing it home.