DrudgeReport links to 2 stories that portray Americans as the poster children for homosexuality
TRUTHREVOLT.ORG
NBC Commentator's Wardrobe Shows Support for LGBT
But really, it is not about politics.
Trey Sanchez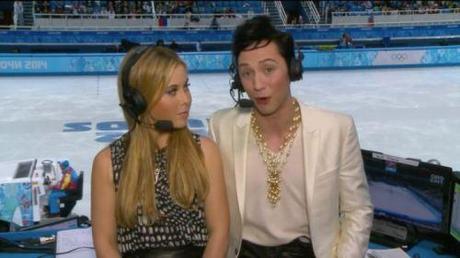 Ex-Olympic skater and current NBC commentator for the Sochi games Johnny Weir is not shy about protesting Russia's homosexual laws live on air, if his wardrobe has anything to say about it.
Weir has appeared with full makeup — blush, lipstick, etc. — as well as silk blouses and gaudy jewelry. Hairstyles have ranged from piled on top to a braided tiara (seen below). This was his plan from the beginning, as NJ.com reports:
[My wardrobe will be a] cross between Coco Chanel and Brooks Brothers" with a hint of "Stanley Tucci's character in the Hunger Games without the blue hair.
Even though Weir says he is showing support for the LGBT community, some feel this is not enough and want to see more aggressive protests. Weir recognizes this tension:
There is very little gray on this. It's very black and white to a lot of people. If I support the Olympics I'm anti gay people. If I take the other side, a lot of people will see me choosing the LGBT community over the Olympics.
Ironically, Weir insists that this is not about politics:
The Olympics are supposed to be about these wonderful athletes who are chasing these lifelong dreams, not politics.
Weir wins the gold for dishonesty.
NYTIMES.COM
American Lugers Annoyed by Gay Rights Group's Video
By SAM BORDEN
KRASNAYA POLYANA, Russia — There was a ripple of discontent over a gay rights issue at the Sochi Games on Tuesday, but it had nothing to do with Russia.
Several American doubles lugers said they were irritated by a popular Canadian video celebrating diversity that pokes fun at their sport.
The Canadian Institute of Diversity and Inclusion recently released a promotional video that shows doubles luge, a sport in which one rider lies on top of the other as they sled down the track. At the end of the video is the tagline: "The Games have always been a little gay. Let's fight to keep it that way."
"They're making fun of our sport for their cause and it doesn't really make a lot of sense to me," Christian Niccum, an American Olympian, said after completing two training runs at the Sanki Sliding Center. "If I were to go hug my dad and someone took a picture and showed it in really slow motion, they could use it in a video like that and that's just ridiculous. It's my dad. Can't we show affection to each other without it being some sort of sexual contact? This is sports. It's the same thing. Why does it have to be like that?"
Another American, Preston Griffall, who will compete in the doubles competition, which begins Wednesday night, said most doubles lugers understand that they are an obvious target for jokes. "We're two dudes, laying on top of each other in spandex," he said. "Of course people are going to make fun of it."
But, Griffall added, "In sports, what we're doing is a completely different issue than what they're talking about. We're competing here. I'm not going to look too deeply into it." The video, which has been seen several million times on YouTube, shows two athletes wearing black bodysuits and red helmets, rocking back and forth in the typical doubles luge start routine. The video has slowed down the movement, however, so it looks like the athletes are softly swaying; it also shows close-ups of one athlete gripping the sled's handle and another of one athlete's midsection, all while the 1980s pop hit "Don't You Want Me" is played.Sexuality has been a recurrent topic at the Sochi Games because of a Russian law that bans the promotion of gay "propaganda" toward minors. Many gay rights groups have protested against the Russian legislation, and the video was designed to highlight the Canadian group's concerns.
"The discrimination in Russia is unacceptable," Michael Bach, the founder and chief executive of the Canadian group, wrote on its website. "As an organization, we want to show our support, especially for the athletes competing at the Olympics in Sochi."
The problem, according to another American, Matthew Mortensen, is that making fun of doubles luge has become hackneyed. "For some reason," he said, "whether it's Jimmy Kimmel or Conan O'Brien or anyone, doubles luge is always the target. It's never about football players taking a snap or whatever. We've heard all this stuff before."
Jayson Terdiman, who rides with Niccum, paused for a moment when asked whether he had ever heard a good doubles luge joke.
"Between this kind of stuff and the 'You're such a luger,' it's pretty tired," he said. "To be honest, I'm not sure I've ever heard one."