After doing an evening look or maquillage du soir at class last Saturday, I wanted to try it on myself using bright blue. I've really been in love with the shade these past few months, so this is what I ended up with: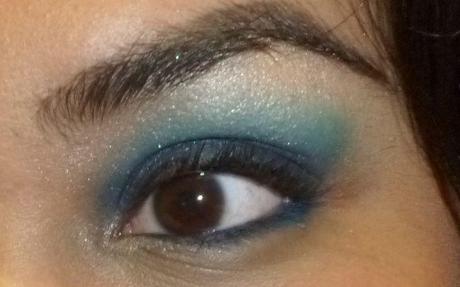 Very tanghalan ng kampeon ano? I was pretty happy with it, but would have wanted it to be rounder. You see how the light blue eyeshadow  just disappears abruptly? I used a a cotton bud and swiped firmly. I could have blended it out more to fade more gracefully but shaped it better too.  This is how it breaks down. It's not a smoky eye where a darker color fades into a lighter color creating a gradient, look at the illustration!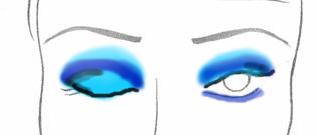 1. So the base color or the lightest color is a turquoise blue which you cover your whole lid until slightly above your crease. Make sure that you can still the lightest color when your eye is open. 2. The medium or the crease color is a medium blue and it follows the crease of your eye. Make sure that it starts and ends at the opposite corners of your eye, making a half-moon. 3. I used a matte black just at outer corner to deepen the crease and give the look more depth. (naks, depth daw o.) 4. Then I lined my upper lashline with black eyeliner, and the lower lashline with a dark blue pencil over which I ran the medium blue then a very soft touch of the lightest color. Curl lashes then apply mascara.  5. The highlight is a bone or slightly off-white color. Blend, blend, blend. Usually, I would recommend a nude lip to go with this—but I wanted to try something else.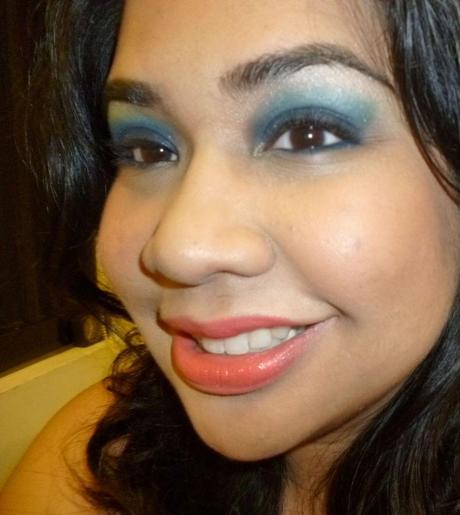 I lined and filled my lips with a lip pencil, then topped it with a bright fuschia pink. It should really register as clownish, or at the very least very 80s but I loved it. Preferred it even to the nude lips which I did afterwards by removing the lipstick then using a concealer topped with gloss.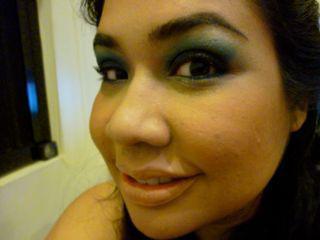 So which? I'm still leaning towards the bright pink lip. Hahahaa.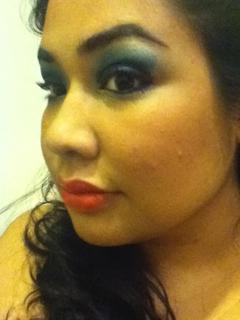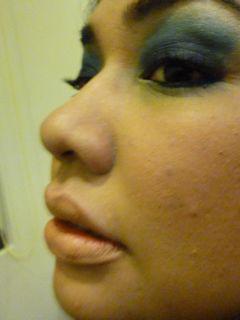 See the full gallery on Posterous Vanity nga naman ano? But I think seeing this look from class inspired me to go with a bright lip even with such a strong eye—not necessarily something to wear outside. Unless you're a superhero or a drag queen talaga. And I like those choices.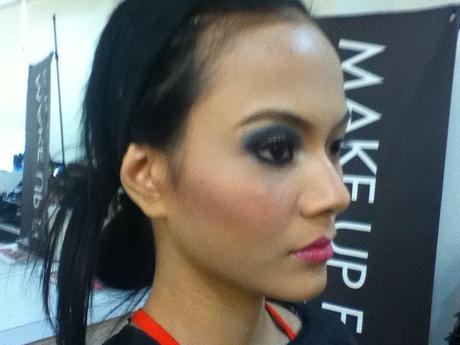 Bright yellow for a base, navy blue for medium/crease and black as a deep color for the outer corner. Then a bright pink lip! Done by Miss Mikey from Make Up for Ever.
PRODUCTS USED for my Wonder Woman/Drag Queen Look or the Glamazona!
EYES: MUFE #72 Matte Turquoise, Kryolan Night Sky, MUD Onyx (Matte Black) and MUD Bone for Highlight | L'Oreal Carbon Black Intense Liner for upper lash line + Smashbox Limitless Liner in Indigo Ink for lower lash line topped with Kryolan Night Sky and MUFE #72 | Etude House Henna Fix Proof 10 Mascara
BROWS and CONTOUR: Smashbox Browtech in Dark Brown (Light Brown to fill and Black Brown to define, then Browtech Wax to tame) ; Smashbox Contour Kit
CHEEKS: NARS Powder Blush in Dolce Vita (Matte Dusty Rose)
LIPS: NARS Dolce Vita, MAC Impassioned | Concealer and Nude Gloss
FACE and CORRECTION: MAC Studio Tech Foundation, Make Up Forever Corrector Kit #5
Permalink | Leave a comment  »