TAKEAWAY: Some of the most talented people I have worked with in this industry are women.  A recent column in The New York Times makes me think of how much more important their role could and should be.
The power of paper:  Paperman, an animated feature

Want to start your day with a little (romantic) fun that involves paper?
Try this Disney animated short feature which William Powers (Hamlet's BlackBerry) has just shared with me, with a note attached:
Can paper save us from loneliness? I saw this new Disney short flying around Twitter just now and had to share it. 
Link: http://www.youtube.com/watch?feature=player_embedded&v=aTLySbGoMX0
Empowering women
A recent Nicholas D. Kristof column in The New York Times evoked plenty of reactions, especially on Facebook and Twitter. Titled She's (rarely) the boss, the column argues that even though women have made gigantic progress in the workplace and society at large, it is not enough. And, in one of the best lines of his column, Kristof writes that:
"Lehman Brothers might still be around today if it were Lehman Brothers and Sisters."
Kristof writes that "global business and political leaders are overwhelmingly male."  He also makes a quick reference to the fact that women are "barely represented" in President Obama's second term cabinet.
The columnist makes his point extremely well, and bases many of his comments on an interview with Sheryl Sandberg, chief operating officer of Facebook, who has written a soon to be published book titled, Lean In.  Sandberg's book attributes the gender gap, in part, to chauvinism and corporate obstacles, but also to women who don't aggressively pursue opportunities.
Why am I getting into this controversial topic?
First, as the father of two daughters and the grandfather of three granddaughters, I believe that there is no opportunity that should be denied to them because of their gender.  I told my daughters this as they were growing up,  and now I repeat it to my granddaughters: the sky is the limit, let's not forget that.
Second, a point that Ms. Sandberg makes, about women not aggressively pursuing opportunities, rings a bell. 
After spending 41 years in this business, both in academia and in newsrooms around the world, I have had the pleasure of collaborating with some of the most talented, smartest and creative women.  In fact, some of the most memorable and effective editors with whom I have worked have been women, as well as in the fields of design/illustration/visual journalism.
None of them was a wilting flower, mind you.
They pursued their goals and ambitions with just the right degree of aggression, and probably knew, deep inside, that they had to try harder than their male counterparts.
During the past four decades, I have witnessed the remarkable progress that women have made in our field.  I have interacted with editors in chief who became mothers during the process of our work together; then I would be there when their babies were brought in for breast feeding at certain times during the day (I would step out, of course), but this did not cause any problems with anyone. I am talking 20 years ago, too. These gifted women editors were respected and I don't recall any incidents of people who thought that their maternity interfered with the job.
Where the Kristof column hits the spot, however, is when Ms. Sandberg is quoted saying that sometimes women did not push hard enough to make their case.
Women editors and the coverage of women
One thing that continues to surprise me from time to time: women editors in chief sometimes are more conservative in their selection of women-related stories as they plan the daily newspaper.  Perhaps it is their way of NOT rocking the boat, or not seeming too eager to push their sisterhood, as not to offend the sensitivities of male colleagues.  Whatever it is, I find myself often telling these women editors: why are you not publishing more content of interest to women?
Surprisingly, sometimes they are not conscious of this until one reminds them, as in going over the front page item by item and not identifying one that would appeal to a larger audience of women readers.
So, I agree, She's (rarely) the boss, but when she is, sometimes years of insecurity in a male-oriented world may keep her from asserting herself to the fullest. (I know that there are many wonderful exceptions, however).
I am very hopeful that by the time my three granddaughters, Brianna, Sophia and Angelina, become adults, there will be no hint of insecurity about their role and their potential.
The sky is the limit, indeed, for their generation.
Interview on Malaysian
TV
During the course of a recent WAN IFRA Asia conference in Kuala Lumpur, Malaysia, I was interviewed for one of the local TV stations.  Here is a video of that interview in which I discuss storytelling in the age of the tablet, summarizing key points of my presentation there.
Where's Mario?

Mario's upcoming speaking engagements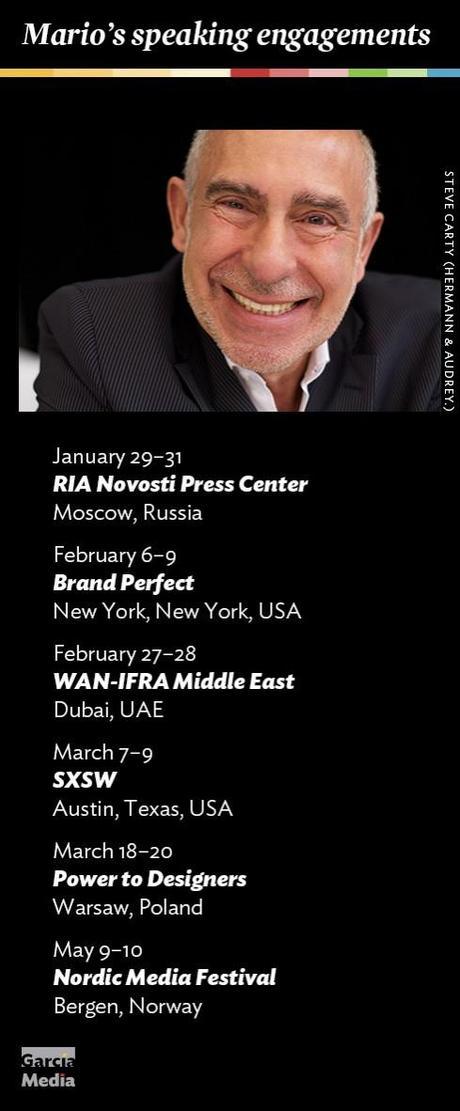 Take advantage of our iPad Design/Ad Lab workshops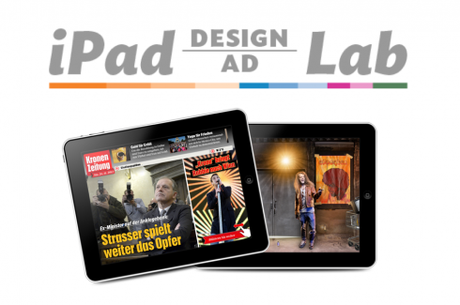 Do you want to take your brand to the next level by creating a tablet edition? Garcia Media can help. We now offer one- to two-day iPad Design Lab workshops on demand to jumpstart your presence on this exciting new platform. We also offer iPad Ad Lab workshops to develop engaging advertising models for your app. Contact us for more information.

Purchase the book on the iBookstore
iPad Design Lab has been given the
QED

 Seal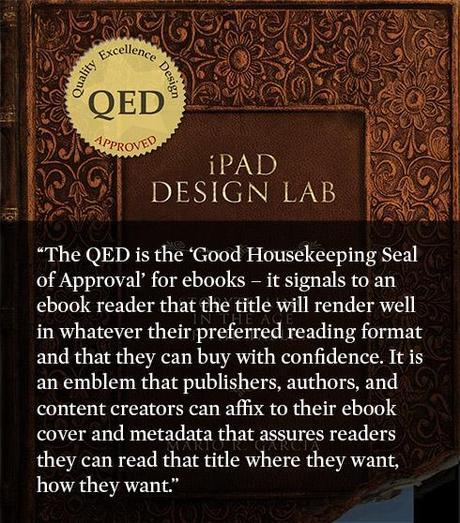 The QED (Quality–Excellence–Design) Seal is bestowed by the judges of the Publishing Innovation Awards after "a thorough, professional 13-point design review with an eye towards readability across multiple devices and in multiple formats."
Learn more about the QED Seal here.
The
EPUB

version of book is

HERE

:

Now available: The EPUB version of  iPad Design Lab: Storytelling in the Age of the Tablet, ready for download via Amazon.com for Kindle:
Here is how you can get iPad Design Lab book:
The original version of the book is the multitouch textbook version available on the iBookstore for iPad (iOS 5.0 and up): 
https://itunes.apple.com/book/ipad-design-lab/id565672822
This version includes video walkthroughs, audio introductions to each chapter, swipeable slideshows, a glossary and a sophisticated look and feel.
Apple only sells multitouch textbooks in certain countries at this time, unfortunately. Copies are available in at least the following countries: Australia, Austria, Belgium, Canada, Finland, France, Germany, Great Britain, Greece, Italy, Latvia, Luxembourg, The Netherlands, Poland, Portugal, Romania, Slovakia, Spain, and the United States.
For those in other countries and without an iPad, we have made the book available in a basic edition for other platforms. This basic edition includes the full text of the original, along with the images and captions, but lacks the other features such as audio and video. It is available on the following platforms in many countries:
Amazon Kindle: 
http://amzn.to/SlPzjZ
Google Books: 
http://bit.ly/TYKcew
Take a video tour of iPad Design Lab
"iPad Design Lab" trailer on Vimeo.
Read the Society of Publication Designers' review of The iPad Design Lab here:
http://www.spd.org/2012/10/must-read-ipad-design-lab.php

Keep up with Mario Garcia Jr.. via Garcia Interactive: helping transform online news since 1995.
http://www.garciainteractive.com
TheMarioBlog post #1184