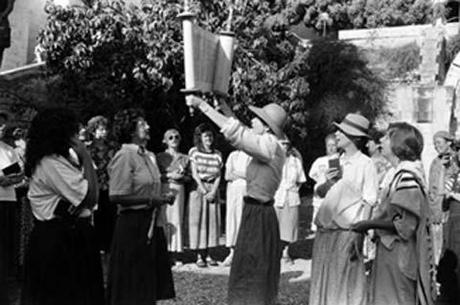 They're all men.
Numb, hurt, outraged, it was all I could think of at my bobbe's (grandmother's) unveiling. The people who have an active part in the ceremony - they're all men. I'm far from the only one who noticed this gender gap; Letty Cottin Pogrebin, a co-founder of Ms. Magazine, cites her gender-based exclusion in her mother's Kaddish as the impetus that made her leave observant Judaism. However, it wasn't until my bobbe's unveiling that I was able to comprehend the degree of pain strong enough to rip women like Ms. Cottin Pogrebin away from Judaism.
The male-dominated ceremony really made me furious. At unveilings, tehillim (psalms) corresponding to the deceased's name are recited in order to help his or her nishama (soul) elevate in Heaven. At my bobbe's unveiling, only men were allowed to recite tehillim. Just one of the ten tehillim was recited by a blood relative, and I only knew three of the men at all; I'm sure many, if not most, had never even known my bobbe. They got to recite tehillim to elevate her nishama, but I, her granddaughter, didn't. Her own daughters weren't even allowed to get too close to the grave. Instead, men my bobbe didn't even know said tehillim for her, given the honor simply because they were born without ovaries.
When it came time to respond to Kaddish, the prayer said in memory of the deceased, I croaked an amen loudly and my mother shushed me, but no. I would not be quiet. I would say amen to my bobbe's Kaddish if it killed me or embarrassed me or both, even if it was recited by someone not her blood, by a son-in-law she never even liked, a man.
While it truly saddens and frustrates me that my bobbe was given such a male-dominated unveiling, I am given hope by the proliferation of efforts in regard to women's equality in prayer. Women's tefillah (prayer) groups, which consist exclusively of women coming together to pray, are growing stronger every day. Lincoln Square Synagogue in Manhattan has hosted a women's tefillah group since 1972, widely considered the first to do so. Throughout the 1970s and 80s, congregations across the globe created women's tefillah groups. As of 2000, according to the Women's Tefillah Network, ninety groups exist throughout the world, ranging from New York to Sydney, Australia.
Shira Salamone, the prominent Jewish feminist blogger, stated, "I think that we women need an opportunity to be the leaders of public ritual, and…women's tefillah groups give us that opportunity without violating halachic (Jewish law) rules concerning who is permitted to lead prayers for which a minyan (prayer quorum of ten men) is required."
Shearith Israel (also known as the Spanish-Portuguese synagogue) has given women the opportunity to lead public ritual since 1990. "Our first reading [was] of Megillat Esther (the Book of Esther) by and for women. We subsequently added Shabbat Shaharit (Sabbath morning prayers), Minha (afternoon prayers), and Arbit (evening prayers, Sunday mornings services, and Shir HaShirim (Song of Songs) and Ruth, read by young women and girls of the congregation," Lynn Kaye, the assistant congregational leader, said. "We skip devarim sheh'b'kedusha [that must be said with a minyan of ten men], so no Kaddish Barehu (the introduction to Shema) or Kedusha (part of Shemoneh Esrei)."
Since 1979, The Hebrew Institute of Riverdale (aka the Bayit) has had a monthly women's tefillah group. "I do think women's tefillah groups are a wonderful venue for women to have a voice in prayer and ritual. In addition, it is a warm and wonderful space for bat mitzvah girls to celebrate their milestones," Rabba Sara Hurwitz said.
Rabbi Steven Exler, who works closely with Rabba Hurwitz, stated, "Our general approach in the Bayit is to try to make various options open to our community members…for their prayer and life cycle experiences. As feminism goes through different iterations, we are conscious of different kinds of spaces which make room for women's voices and leadership in synagogue and tefillah ritual. One approach is within a mixed gender setting, and one approach is to create a women's space. We try to make room for both in our Bayit, and women's tefillah is part of our commitment to that."
As Rabbi Exler mentioned, partnership minyanim are also an important part of women's inclusion in tefillah. While women's tefillah groups are women-only, partnership minyanim have at least ten men in attendance, the genders are usually separated by some form of mehitzah (divider), and women are only allowed to lead in certain parts, but can read from the Torah. In Shira Hadasha, a Jerusalem-based congregation, women participate in the tefillah services by leading Kabbalat Shabbat and Pesukei D'Zimrah (parts of prayer), in addition to reading from the Torah and reciting the ever-important Kaddish.
"I support Partnership Minyanim in addition to women's tefillah groups because they enable women to participate in a minyan with [devarim] sheh'b'kedushah while still having a literal voice in the service," Shira Salamone said.
Avraham Leader, one of the creators of the Israel-based Amika de-Bira partnership minyan, said, "My original motivation in starting this minyan actually had more to do with wanting a place where I could pray…without…[feeling] very estranged. My wife at the time asked me why women couldn't have aliyot (calls to read the Torah)…I looked the matter up in halacha (Jewish law) and to my surprise discovered that…not only can women have aliyot, but they may also read from the Torah, and over time, they eventually took additional roles [in Amika de-Bira]. So this decision came about almost organically…I would, however, emphasize that our focus remains on prayer from the heart, regardless of whether it is led by women or men. We maintain separation between men and women...As you may know, the halachic framework we created was later used in one form or another in other modern Orthodox congregations both in Israel and abroad."
Julie Zuckerman, a co-creator of the Kehillat Darchei Noam in Modi'in, Israel, said, "We define ourselves as 'Orthodox halachic egalitarian,' and when the minyan was started about 5 ½ years ago [we] felt very strongly that we should be doing everything possible to expand women's participation in the ritual aspects of tefillah. Women can lead Kabbalat Shabbat, Pesukei D'Zimrah, read Torah and haftarah (part of prayer), have aliyot, lead the Torah service, etc. The mehitzah is down the middle and is a curtain, which is parted...during the Torah reading, for announcements...etc. The rationale…is that if, in the rest of our lives, women are taking an active, equal role in society – work, family, etc. – then there is no reason women should not be taking a similarly active role in the synagogue."
Despite these amazing congregations, much of Orthodoxy still disapproves of the concept of women's tefillah. Members of Women of the Wall, a group that prays loudly at the Kotel HaMa'aravi (Western Wall) every Rosh Hodesh (first of the Jewish month) with tefillin (phylacteries) and Torah scrolls, can attest to the monthly battles with the Israeli government and Western Wall-goers: two women have been arrested since WOW's 1988 conception, and innumerable women have been heckled and attacked. Despite the difficulty, these women are strong and are willing to stand up for what they believe in.
At my bobbe's unveiling, I vowed to myself that I would never let men wrest away the power that my tefillot can hold, that I would emulate all of the pioneers within the women's tefillah movement. I also swore that I would never let a repeat of her unveiling happen to my mother. My mother deserves a Kaddish said by her own daughter, a Kaddish responded to by women, a proper Kaddish for a woman of the Line.
No matter what I have to do to make it happen, my mother will get it.