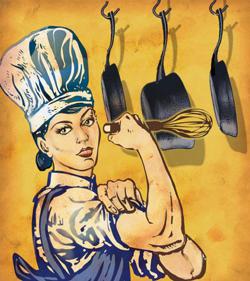 Over the past several months, I've begun to watch competitive cooking shows obsessively. I mean, I don't really know how to turn on my own oven and have never cooked anything in my life, but watching food shows has given me somewhat of a desire to maybe learn how to cook something someday in the far future, preferably simple. Something that interested me about these competitive food shows (other than cooking tips) is that women are largely underrepresented.
One of my favorite shows is Chopped, where four professional chefs are given a very short amount of time to make a composed dish with three or four random ingredients. There is usually only one female competitor on each show. Every once in a while you'll see two women, but it's unusual. There was only one episode I can remember where all four competitors were female, and the rarity of such an occurrence was pointed out by one of the judges.
Iron Chef, which is the big time in competitive cooking shows, has noticeably few women. In the show, a chef challenges one of the Iron Chefs to a cook-off. On the original Japanese version, there were no female Iron Chefs. I don't watch the show that often, but I've never seen an episode with a female competitor. I don't think my perception of the show as a boys' club is too far off, since Wikipedia's section on notable challengers lists twenty men's names with some commentary, while nine female challengers' names are squished together at the bottom.
On Iron Chef America, the Americanized version of Iron Chef, there was only one woman (Cat Cora) out of nine total Iron Chefs. There are rarely female challengers, although I have seen them before. There are usually a few female sous chefs in kitchen stadium, whether from the Iron Chef's or challenger's team. Next Iron Chef, which pits professional chefs against each other to find the next star of Iron Chef America, tries harder to feature female chefs. In 2007, two out of eight contestants were women; in 2009, three out of ten were women (and one was Jewish, Amanda Freitag); in 2010, four out of ten were women; and in 2011, three out of ten were women. No women have won Next Iron Chef yet, although Elizabeth Falkner was runner-up in 2011.
Next Food Network Star(NFNS) pits everyday chefs against each other for the opportunity to have their own cooking show on Food Network. NFNS has always had a lot of female competitors, especially as the years have gone on. On Season 1, three out of eight contestants were female (including the runner-up); on Season 2, four out of eight were female; on Season 3, four out of 11 were female (including winner Amy Finley); on Season 4, five out of ten were female (including Corey Kahaney, the Jewish creator of the Off-Broadway JAP Show, which featured Jewish women comedians); on Season 5, five out of ten were female (including winner Katie d'Arabian); on Season 6, seven out of 12 were female (including Jewish Aria Kagan and winner Aarti Sequeira, host of the popular show Aarti Party); and on Season 7, seven out of 15 were female (including Jewish Penny Davidi).
Teams of judges on Food Network shows tend to be approximately half-male and half-female. Of the 18 professional chefs and restaurateurs that have served as judges on Chopped, seven are female, and two out of five judges that have served on every season are female. There's almost always at least one or two women on the judging panels of Iron Chef, Iron Chef America, and Next Iron Chef. On every season of NFNS, two out of four judges were female.
What interests me a lot is that the pastry and dessert shows have much more women. Cupcake Wars, where competitors have to bake themed cupcakes for an event, is Chopped's opposite: usually there are three female competitors and one male, and every once in a while there are two men. Sweet Genius, Israeli pastry chef Ron Ben-Israel's way to find up-and-coming dessert artists, usually features two women and two men. Challenge, an extreme cake competition, also averages out at two men and two women.
If my assumption that Food Network represents reality is correct, it surprises me that there aren't more women in the professional cooking field. After all, don't women belong in the kitchen? I have to do more research into this.