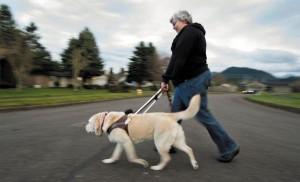 Any story about Janine Prindle eventually becomes a dog story.
Prindle, husband Jack and sons Douglas and Aaron raised 30 guide dogs over a 15-year period beginning in 1985, socializing each animal and then giving it up to professional trainers near its first birthday.
When Prindle's 27-year fight with retinopathy left her legally blind in 2007, she stopped raising guide dogs and was given one – Cranberry, a yellow lab.
On the first walk the two took, Cranberry saved Prindle from walking in front of a car pulling out of a driveway. That began a bond that has led to three distinct relationships between owner and dog.
"Cranberry is a guide dog, but in the house with the harness off, she's a pet," said Prindle, watching Cranberry lie upside down in the family's Enumclaw home. "Competing in obedience trials, that's something we both enjoy."
Today, Janine and Cranberry will compete in an all-breed obedience ring at an Auburn dog show. In two weeks, they'll be in the big-time – the 75th annual Seattle Kennel Club Dog Show at CenturyLink Field Event Center March 9-10.
Cranberry will work her way through an obstacle course, following verbal and hand signals from Prindle, who can only see Cranberry when the dog is directly in front of her.
"I have no peripheral vision, I have central vision. I can watch her as she walks away from me, I just can't see her if she's at my side," said Prindle, who is 60. "I don't see her unless I look down directly at her, and if I do that, I can't see where I'm going."
That complicates each competition, but Cranberry and her owner have been climbing the ratings ranks for five years.
"Occasionally, I have to ask a judge if I'm headed the right way," Prindle said. "Cranberry has had trouble a few times, too, especially with hand signals at 45 feet. I'll signal 'down' and she'll lie down. I'll signal her to sit up, and sometimes she decides she's perfectly comfortable lying down and won't get up.
"That's why we practice."
Today, the two will be looking to win the title of utility dog, which only 13 percent of competitive dogs reach.
For all that, Cranberry's primary role in Janine's life is as a guide dog.
"We were in Auburn, near the transportation center there, and I was about to cross a street. I looked both ways and said 'Forward,'" Prindle said. "Cranberry didn't start, and when I did, she blocked my way by standing directly in front of me. There was a bus coming and I hadn't seen.
"They call that 'intelligent disobedience.' She wouldn't obey if it put me in danger."
On walks, Cranberry is trained to watch for small obstructions in their path that might trip Prindle. The dog even stops and looks up when they approach a low, overhanging tree branch.
"She did that the other day for a branch that was about forehead high on me," Prindle said. "I praised her, told her what a good dog she was. Then I stood up and walked right into the branch. My fault!
"When she's in her harness, she's thinking about her job. People will run up and say 'I know I shouldn't pet your dog but I just have to!' I don't understand that. It breaks her concentration, and she's trying to focus on what's around us."
Off duty, with Prindle sitting in a favorite chair, Cranberry sprawls on the carpet, allowing a visitor to scratch under her chin.
"I've had pets all my life, and I tried to show my first dog when I was 12," Prindle said. "There were three of us in the competition – all kids – and none of us knew what we were doing. We all got third-place ribbons."
She couldn't have predicted the multi-faceted relationship with a dog she would treasure nearly 50 years later.
"Cranberry is special. She's my pet, and she's my guide dog."
~ Courtesy of The News Tribune
Tags: blind dog owner, guide dog, service dog