The Reason I Dressed
We spent a Saturday afternoon in Mantua, in Lombardy! Read about my day here, WARNING this post is filled with like a million photos! This trip was only semi-planned but in the morning I did prepare to spend the day walking !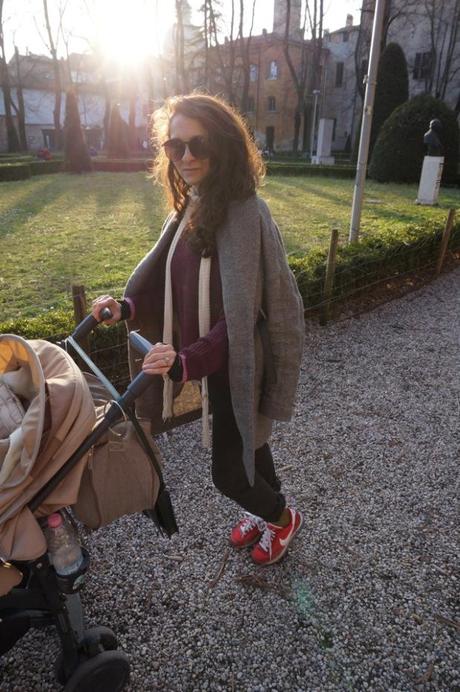 What I Wore
I've been super inspired lately by this blogger trend of wearing trainers with EVERYTHING.  From rolled pants and boyfriend jeans, to big oversized, wide-leg cropped pants to skirts and dresses.
I've never really been a sneaker or trainer person myself but I am finally "getting it".  Downplay the shoes, overplay the accessories and coat and you have yourself a look that says….I'm stylish but not trying too hard.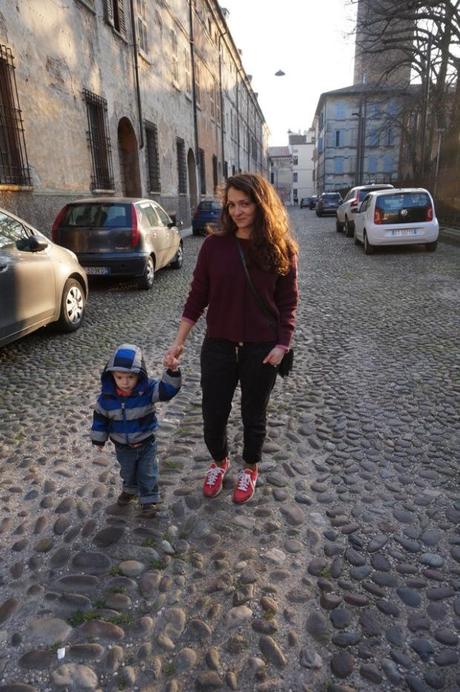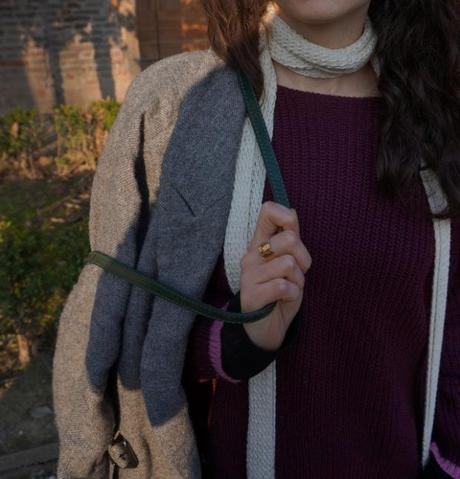 I bought this sweater for 8 euro, and I'm currently working on styling it with a few skirt combos and skinny high-waisted jeans.   I LOVE how it clashes with my red nike trainers.
Oh and did you notice I'm wearing green socks? Or that my jeans are two sizes too big for me?
Did I match for Mantua?…..No.  Did I feel supremely cool walking around?….Yes.
Sloan
I'm learning that self confidence is never asking "how do I look?".  As Canadian rock band Sloan once sang "If it feels good do it even if you shouldn't, don't let people mess you around".
The other day I asked my husband how I looked in something and he said he'd never seen me look more awful!! So I changed my clothes and HATED the outfit I ended up putting together.  I will never ask him again how I look.  I just don't care.  I've learned he's attracted more to my confidence than anything else and I felt a little ridiculous changing after he gave me his opinion.
New moto….
I'm going to wear this today because it feels good.


Follow Reasons to Dress through Bloglovin' & get 1 email a day with all the most recent posts from the blogs you love.
Fashion link-ups!
Every week I try to link-up my style posts with these fashionable ladies. Visit their sites for some inspiration & to discover new bloggers!