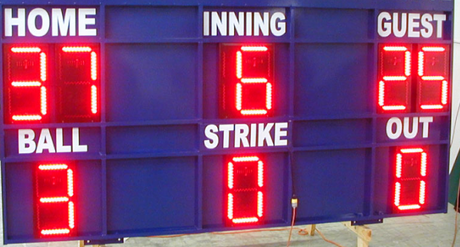 Tired of these games?
Successful pitching at any level is not rocket science.  Get ahead and force them to put the ball into play.  
There are very few situations in the game where a strikeout is necessary.  2nd and 3rd and no outs would be an example.  Every other situation calls for the pitcher to force the batter to put the ball into play.
A great rule that pitchers should follow is to try to get the offensive team to put the ball into play within three pitches.  Doing so results in the following benefits:
Less walks.

Lower pitch counts.  That means going longer into games.

Hitters get used to swinging early in the count and start to swing at pitches out of the zone.

Umpires get used to calling strikes and are more likely to give a pitcher the close pitches.

Infielders and outfielders stay alert.  More alert means less errors.

Quicker innings means more rest for your defense.
Three hour baseball games are not fun.  Neither is taking a pitcher out in the third inning because he's thrown 75 pitches.
To throw less pitches and get your teammates to like you again, live by the mantra … "within three pitches."
It's not rocket science and it works.