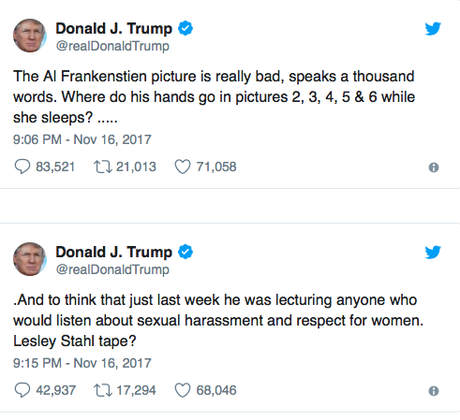 Trump has been silent about the sexual harassment/abuse of Alabama Senate candidate Roy Moore, but he broke his silence to tweet about an inappropriate picture of Democrat Al Franken -- even though that picture doesn't come close to the sexual harassment/abuse allegations leveled against Moore (which included a 14 year old girl), or the allegations against Trump himself (which he cavalierly dismissed as "fake news"). It is the height of hypocrisy for him to comment on Democrats while giving Republicans a free ride.
Here are 14 very credible reasons why it is inappropriate for Trump to be making accusations against anyone regarding sexual harassment/abuse:
1. Ninni Laaksonen

, former Miss Finland, says "Trump stood right next to me and suddenly he squeezed my butt" in July 2006. 


2. Jessica Drake

 says Trump grabbed and kissed her without consent, then offered her $10,000 for sex in 2006.  


3. Karena Virginia

 says she was groped by Trump at the U.S. Open in 1998. 


4. Cathy Heller

 says Trump grabbed her and attempted to kiss her at Mar-a-lago in 1997. 


5. Summer Zervos

, an Apprentice contestant, says Trump kissed her, grabbed her breasts and began "thrusting his genitals" in 2007.  


6. Kristin Anderson

says Trump reached under her skirt and grabbed her vagina through her underwear in the early 1990s. 


7. Jessica Leeds

 says Trump lifted up the armrest, grabbed her breasts and reached his hand up her skirt in the early 1980s. 


8. Rachel Crooks

 says she was sexually assaulted by Trump in an elevator in Trump Tower in 2005. 


9. Mindy McGillivray

 says Trump groped her while she was attending a concert at Mar-a-lago in 2003. 


10. Natasha Stoynoff

 says Trump pushed her against a wall and jammed his tongue down her throat at Mar-a-lago in 2005. 


11. Jennifer Murphy

, another Apprentice contestant, says Trump kissed her on the lips after a job interview in 2005.  


12. Cassandra Searles

 says Trump grabbed her ass and invited her to his hotel room in 2013. 


13. Temple Taggart McDowell

, Former Miss Utah, says Trump kissed her directly on the lips the first time she met him in 1997. 


14. Jill Harth

 says Trump repeatedly sexually harassed her and groped her underneath a table in 1993.


And this doesn't even include the 13 year old girl Trump was witnessed having sex with (who by definition cannot give consent). Trump is stupid to be commenting on someone else's problems, when he has a terrible history of sexual harassment/abuse of his own.