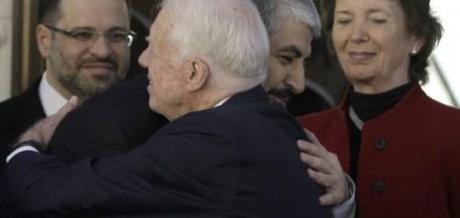 Former President Jimmy Carter embracing Hamas leader Khaled Mashaal
WND EXCLUSIVE
JIMMY CARTER REFUSES TO CANCEL SPEECH FOR HAMAS FRONT
Terror-tied group featuring former president at fundraiser
A spokeswoman for Jimmy Carter says that, despite national outcry, the former president is going ahead with plans Saturday to deliver the keynote speech at a fundraiser of a Muslim organization that federal prosecutors and a federal judge say is a front group for the terrorist group Hamas…
Read more at http://www.wnd.com/2014/08/jimmy-carter-refuses-to-cancel-speech-for-hamas-front/#D4Zk0hAZOtf8SbcQ.99
---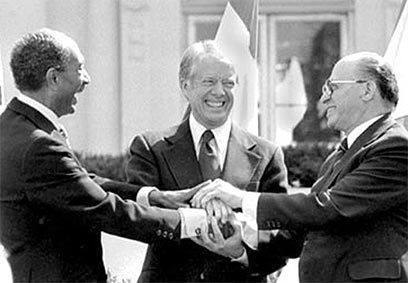 Signing the accords on the White House lawn 11-19-77
What a forgetful man Mr. Carter is
The Camp David Accords were signed by Egyptian President Anwar El Sadat and Israeli Prime Minister Menachem Begin on 17 September 1978, following thirteen days of secret negotiations at Camp David.The two framework agreements were signed at the White House, and were witnessed by United States President Jimmy Carter. The second of these frameworks (A Framework for the Conclusion of a Peace Treaty between Egypt and Israel) led directly to the 1979 Egypt-Israel Peace Treaty. Due to the agreement, Sadat and Begin received the shared 1978 Nobel Peace Prize.
http://en.wikipedia.org/wiki/Camp_David_Accords
---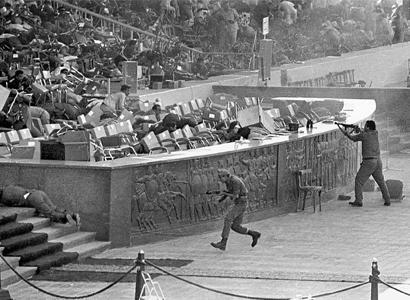 Sadat assasinated on October 6 1981
Former President of Egypt Assassinated by the Muslim Brotherhood
Muhammad Anwar El Sadat was the third President of Egypt, serving from 15 October 1970 until his assassination by fundamentalist army officers on 6 October 1981.
http://en.wikipedia.org/wiki/Assassination_of_Anwar_Sadat
---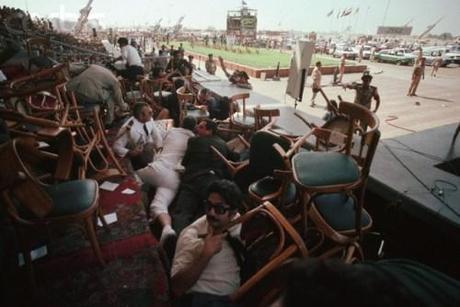 Hamas is the Muslim Brotherhood
By Andrew C. McCarthy – National Review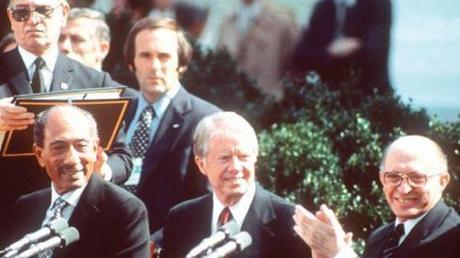 To sum things up, Jimmy Carter is honoring Hamas by being the keynote speaker for their fundraiser this Labor Day weekend in Detroit. He's going to be paid by terrorists to help the terrorists raise money.
And…
Hamas is a wing of the Muslim Brotherhood, the organization that murdered Carter's friend, Anwar Sadat.
Note to self: 
Choose your friends carefully.
♞